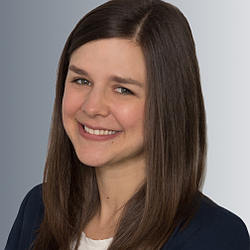 An associate in the Litigation Department and a member of the Supreme Court and Appellate Practice Group, Aimee Brown has served as lead counsel in numerous cases in federal and state court. She has argued before various courts, including the U.S. Court of Appeals for the D.C. Circuit, the U.S. District Courts for the District of Columbia, the Northern District of California and the District of Kansas, as well as the Maryland Court of Special Appeals. Aimee's work has focused on issues related to constitutional law, administrative law and complex statutory interpretation.
Recently, Aimee was recognized as The American Lawyer "Litigator of the Week" for leading a successful challenge for Spirit Airlines to the way that the Federal Aviation Administration allocated flight authorizations at Newark Liberty International Airport.
EXPERIENCE
Prior to private practice, Aimee worked for the U.S. Department of Justice, first as a trial attorney in the Federal Programs Branch, then as an attorney-adviser in the Office of Legal Counsel. She clerked for Justice Samuel Alito and Justice Anthony Kennedy on the U.S. Supreme Court and Judge Thomas B. Griffith on the U.S. Court of Appeals for the D.C. Circuit. Aimee graduated from the University of Chicago Law School in 2014, where she served as the Executive Articles and Book Review Editor of the University of Chicago Law Review.