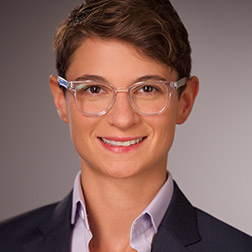 Alexia is an associate in the litigation department, where she specializes in complex civil, commercial, and constitutional litigation across a range of industries, including private equity, banking, energy, insurance, technology, and biomedicine. She represents clients in state and federal court, at both the trial and appellate levels, and in arbitration and internal investigations.
Alexia has an active pro bono practice. She was part of the legal teams that successfully litigated United States v. Windsor from the district court to the Supreme Court, striking down the key provision of the so-called Defense of Marriage Act (DOMA), and a series of cases in Mississippi that invalidated the state's bans on gay marriage and adoption. Alexia has also co-authored amicus briefs to the Supreme Court and several Circuit Courts, including in Whole Woman's Health v. Hellerstedt, on behalf of lawyers who have had abortions.
Alexia's work has been featured in The New York Times, The Washington Post, The National Law Journal, Slate, and elsewhere and she regularly speaks at law schools about her work and constitutional litigation.