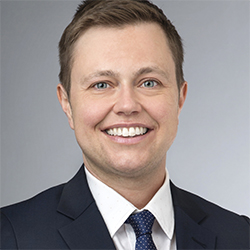 BJ Jensen is Paul, Weiss's full-time Pro Bono Attorney, working with Pro Bono Counsel Emily Goldberg to manage the firm's pro bono efforts across departments and to develop partnerships with legal services organizations and clients. BJ maintains a legal practice in asylum and Special Immigrant Juvenile Status cases, focused primarily on the representation of women and children who have survived domestic violence and abuse.
EXPERIENCE
Prior to joining the Pro Bono practice on a full-time basis, BJ was an associate in the firm's litigation department, where he represented a broad range of corporate clients, on a variety of matters including the Foreign Corrupt Practices Act, insurance, labor and employment, and white collar and regulatory defense.
In the pro bono immigration context, BJ has specialized in Special Immigrant Juvenile Status representations. In addition, as a Paul, Weiss litigation associate, BJ successfully represented a pretrial detainee in a Section 1983 prisoner rights suit and won an Article 78 appeal on behalf of another client, overturning a Parole Board's decision barring his client from living with his family while on parole.
BJ clerked for Chief Justice Allan Lutfy and Justice Mary Gleason of the Canadian Federal Court in Ottawa. While at the McGill University Faculty of Law, BJ competed internationally in the Jessup International Law Moot Court Competition and was General Coordinator for the Human Rights Working Group. BJ has also published on international human rights and children's law. Prior to attending law school, BJ worked with children and youth in low-income housing communities and then for the Canadian federal government to implement a health and economic development program for Canada's Aboriginal communities.