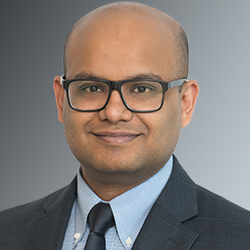 An associate in the Litigation Department, Saurabh Gupta focuses his practice on patent litigation matters. Saurabh has represented clients before the Patent Trial and Appeal Board (PTAB), federal district courts and the U.S. International Trade Commission (ITC). He has litigated patents in a wide variety of technical areas, from pharmaceuticals, to consumer electronics, to social media applications. Saurabh has represented clients such as Spansion, 10x Genomics, Amgen, Chugai Pharmaceutical Co., Genentech and Twitter before the PTAB.
Saurabh was a Technical Advisor in the Washington, D.C. office of Paul, Weiss between February 2017-2018, and prior to that was a Technical Advisor at another firm. Previously, Saurabh received his Ph.D. in Biological Engineering from MIT, Master's degree in Electrical Engineering from Princeton and Bachelor in Technology from Indian Institute of Technology. Throughout undergraduate and graduate school, Saurabh took various courses on CPU (for example, Intel Pentium), SoC and integrated chip design. He has worked as a design engineer at STMicroelectronics in India designing what were then STM's most advanced chips. He also designed and fabricated Micro Electro Mechanical System (MEMS) devices and large scale Silicon Germanium chips in ISO-5 class clean rooms. In addition, while at Princeton, Saurabh was a teaching assistant for an undergraduate course on circuit design.
In 2010, his Ph.D. thesis was awarded the Bill and Melinda Gates Foundation's Grand Challenges research award of $600,000 as one of the five most innovative solutions to pressing global health problems that year. At law school, Saurabh was a Founding Staff Editor of the Georgetown Law Technology Review.