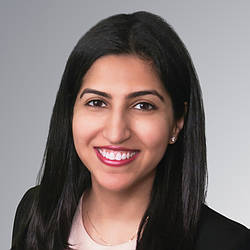 An associate in the Corporate Department and member of the Intellectual Property Transactions Group, Shruti Chopra advises public companies, private equity funds and established, high-growth and early-stage companies on a variety of transactions involving intellectual property, privacy and technology. Shruti works on the IP and technology aspects of mergers, acquisitions, divestitures, venture capital investments, private equity, securitization and debt financing transactions. She also advises on the development, licensing, transfer and commercialization of IP, technology and data assets, as well as trademark prosecution.
Prior to joining Paul, Weiss, Shruti was an associate at a New York-based law firm, as well as at a full-service law firm in Mumbai, India. Outside of her legal practice, she is actively involved with the American Bar Association and the Asian American Bar Association of New York. In 2018, the ABA Section of Intellectual Property Law (ABA-IPL) elected Shruti to a three-year term as a Young Lawyer Fellow. Shruti also serves as the chair of the ABA-IPL Young Lawyers Action Group and co-chair of the Privacy, Cybersecurity and Digital Rights Committee of the ABA Section of International Law. Recently, she was elected to the board of trustees of the Foundation for Advancement of Diversity in Intellectual Property Law.
Shruti frequently speaks and writes on topics related to her practice, including intellectual property rights in India and the U.S., and data protection and privacy laws. She also provides pro bono transactional and legal services to low-income entrepreneurs and startups.