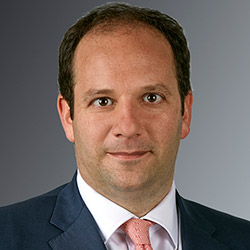 London
Alder Castle
10 Noble Street
London, United Kingdom EC2V 7JU
Fax: +44-20-7367-1650
+ vCard
ADD TO CONTACTS
Alvaro Membrillera is a partner in the Corporate Department and Head of the firm's London office. His practice focuses on M&A and leveraged transactions, particularly in the private equity space. Alvaro has led teams representing private equity firms on a broad range of complex, cross-border matters including public to privates, consortium deals, minority investments, carve outs and disposals. Resident in London since 2002, Alvaro has extensive experience in transactions across a wide range of European jurisdictions for KKR, General Atlantic, BC Partners and other private equity funds. Alvaro has been recognized by The Legal 500 for his work on private equity transactions.
EXPERIENCE
Alvaro's recent announced transactions include the representation of:
KKR and its portfolio companies in numerous transactions, including:

in connection with the acquisition of Medac by MasterD, a portfolio company of KKR
in its acquisition of a majority position in ERM
in its acquisition of a minority stake in Cegid at an enterprise value of €5.5 billion
in connection with TA Associates' minority investment in Söderberg & Partners
in connection with Silver Lake's minority investment in Exact, a portfolio company of KKR
in Telxius Towers's €7.7 billion sale of its telecommunications tower unit to American Tower Corporation
the sale of its minority stake in the Spanish PV assets of Grupo T-Solar to Cubico Sustainable Investments
its acquisition of CMC Machinery
its €3 billion take private of MásMóvil by KKR, Cinven and Providence
its acquisition of Citation from Hg Capital
its €1.8 billion acquisition of a 37.5% stake in the secondary network of Telecom Italia
its sale of its equity stake in Acciona Energía Internacional to AXA Investment
its acquisition of MasterD
its investment in Avida
its acquisition of Exact Software from Apax
its acquisition of Söderberg & Partners from TA Associates
its investment in Sector Alarm
its sale of Renvico France to ENGIE
its sale of United Group B.V. to funds advised by BC Partners
its sale of South Staffordshire to pension funds and other institutional investors advised by Arjun Infrastructure Partners

General Atlantic

and its portfolio companies in numerous transactions, including:

its investment in Mollie
its portfolio company Hemnet in its initial public offering on Nasdaq Stockholm
its investment in Neon Pagamentos
its investment in OutSystems
its investment in dLocal
its investment in Hotmart
its investment in Acesso Digital
its investment in Joe & the Juice

BC Partners

in the acquisition by its portfolio company, United Group, of Vivacom

Blackstone Growth in its $200 million investment in Oatly AB
KPS Capital Partners in:

its acquisition of Siderforgerossi Group, S.p.A.
its acquisition of Metra Holdings S.p.A. and Metra S.p.A.
its approximately $2.7 billion acquisition of the Europe, Middle East and Africa food, aerosol and promotional packaging business from Crown Holdings
its €1.38 billion acquisition of the global aluminum rolling business of Norsk Hydro ASA
the sale of its portfolio company Chassis Brakes International Group to Hitachi

Roark Capital Group

in:

its

acquisition of International Car Wash Group from TDR Capital LLP

Driven Brands

, a portfolio company of Roark, in its acquisition of International Car Wash Group

Asterion Industrial Partners in its acquisition of Retelit S.p.A.
Real Assets Investment Management in its acquisition of Health Transportation Group
Sport Republic Limited in its acquisition of a majority stake in the English Premier League Southampton Football Club
Stonepeak Infrastructure Partners

in IMCO's add on investment in its portfolio company euNetworks

Kohlberg

in:

its acquisition of three European packaging plants from Bemis Healthcare Packaging Europe

its acquisition of Nelipak from Mason Wells
Alvaro, who is fluent in English, Spanish and Portuguese, began his career in Spain and worked for law firms in Brazil and New York prior to moving to London. He holds an LL.M. from New York University School of Law, which he attended as a Fulbright Scholar, and a Licenciatura en Derecho from the Universidad Pompeu Fabra in Barcelona. Alvaro is admitted to practice law in New York and Spain.