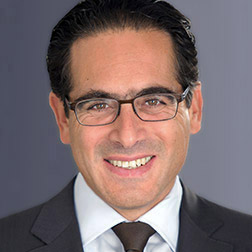 Ariel Deckelbaum is a member of the Mergers and Acquisitions Group and former Deputy Chair of the Corporate Department for twelve years. His practice includes a wide range of public and private M&A, joint ventures, cross-border and restructuring transactions. Ariel also advises high-net-worth families and family offices regarding their public and private investments. In each of his practice areas, he helps clients develop and protect their long-term interests and investment strategies.
Ariel's clients include Apollo Global Management, Citi, Conair Corporation, EXOR, Givaudan, Goldman Sachs, Grupo Salinas, HCP, HRG Group, KPS Capital Partners, Nippon Steel & Sumitomo Metal Corporation, Oak Hill Capital Partners, Ply Gem Holdings, Shaw Communications, Sky, Sumitomo Corporation, Sumitomo Dainippon Pharmaceuticals, Sunovion, TAO Group, Time Warner Cable, TowerBrook Capital Partners and Universal American.
Awards and Recognitions
Ariel is recognized as a leading M&A lawyer by Chambers USA, Chambers Global and a recommended practitioner in both "M&A: Large Deals ($1BN+)" and "Media and Entertainment" by The Legal 500. In addition to his M&A work, Ariel has been recognized as a top lawyer by Chambers High Net Worth for his experience in "Family Offices & Funds Structuring." He was recognized in Variety's 2021, 2020 and 2018 "Legal Impact Report," and previously in its 2016 "Dealmakers Impact Report," which both spotlight the top lawyers in the entertainment industry. He has been named by BTI Consulting Group Inc. as a "Client Service All-Star," an award that identifies attorneys that are "not just great—but head and shoulders above the rest as defined solely by clients." In 2015, Ariel was one of only 11 attorneys named a Mergers & Acquisitions MVP by Law360. In 2010, Ariel was recognized as one of Crain's "40 Under 40," a list of a "dynamic group of New Yorkers who have excelled in their respective fields."
Experience
Ariel's recent mergers and acquisitions experience includes numerous high profile representations, including advising Advance, a founder and major shareholder of Discovery, in the Reverse Morris Trust transaction that will combine AT&T's WarnerMedia business with Discovery; Lehigh Hanson, the U.S. affiliate of HeidelbergCement, in the sale of its U.S. West region business to Martin Marietta Materials; Conair Corporation in its sale to affiliates of American Securities and in the sale of its professional liquids division to Transom Capital Group; Altimar Acquisition Corporation in its business combination with Owl Rock Capital Group and Dyal Capital Partners to create Blue Owl Capital; Givaudan in its acquisition of Ungerer Industries and its acquisition of the Spicetec Flavors & Seasonings business divested by ConAgra Foods; the Special Committee of the Board of Directors of CBS Corp. in its merger with Viacom to form ViacomCBS Inc.; InnovaCare Health in its sale to a consortium of investors led by Summit Partners; Xerox Corporation in its terminated combination with Fuji Xerox, a joint venture between Xerox and Fujifilm; Ply Gem Holdings in its acquisition by Clayton, Dubilier & Rice; Time Warner Cable in its merger with Charter Communications, its terminated stock-for-stock merger with Comcast, its acquisitions of Insight Communications Company and Navisite, and its separation from Time Warner, among others; Jeffrey Katzenberg in DreamWorks Animation's acquisition by Comcast; TAO Group in the sale of a majority stake to The Madison Square Garden Company; HCP in the spin-off of its HCR ManorCare portfolio into an independent, publicly-traded REIT; HRG Group Inc. in connection with the acquisition of Fidelity & Guaranty Life by CF Corporation; EXOR in its successful unsolicited cash bid for PartnerRe and in its sale of Cushman & Wakefield; RSC Holdings in its merger with United Rentals; Universal American in its acquisition of APS Healthcare, the sale of its Medicare Part D Business to CVS/Caremark and the sale of Universal American to WellCare Health Plans; and Citigroup in the sale of its retail banking business in Japan to Sumitomo Mitsui Banking Corporation and the sale of Citi Cards Japan to Sumitomo Mitsui Banking Corporation, and in the sale of its retail banking business in the Dallas, Houston, Midland and Odessa, Texas markets to Branch Banking and Trust Company.
Ariel's cross-border representations have included advising Sumitomo Corporation in its joint investment with Brookfield Asset Management in 26 project companies involved in water and sewage services and industrial water treatment owned by Odebrecht Ambiental; Shaw Communications in the sale of its subsidiary ViaWest to Peak 10 Holding Corporation; Sunovion in its acquisition of Cynapsus Therapeutics; Sky in its acquisition of a 60 percent stake in Jupiter Entertainment; Grupo Salinas in its sale of Iusacell to AT&T; Grupo Posadas in the sale of its South American hotel portfolio to Accor; and Sumitomo Dainippon Pharmaceuticals in its acquisition of Sepracor.
Ariel's private equity and other private company representations have included advising Imagine Entertainment in connection with an investment in the company by The Raine Group; Oak Hill Capital Partners in its investments in Duane Reade and WaveDivision Holdings; Wesley R. Edens and Marc Lasry in their purchase of the Milwaukee Bucks; and TowerBrook Capital Partners in its sale of Wilton Brands, its acquisition of J.Jill, and in its investment in Broadlane and subsequent sale to MedAssets.
Ariel's investment management representations have included advising principals of firms in the exploration of strategic alternatives, including the principals of Fortress in connection with the sale of Fortress Investment Group to SoftBank Group; Avenue Capital Group in its sale of a minority interest to Morgan Stanley; KPS Capital Partners in connection with an investment in KPS by Dyal Capital Partners; and Nomura in its minority investment in Fortress Investment Group.
Ariel is a member of the Board of Governors of McGill University, a member of the Board of Advisors of the Faculty of Law at McGill University and a member of McGill's Regional Advisory Board for the U.S. (East Coast). He is also a member of the board of directors of the Japan Society Inc. He was a founding member of the Board of New Classrooms Innovation Partners and is a former Chair of the Board of Directors of The Lawyers Alliance for New York.
Ariel is a regular speaker on a variety of topics affecting M&A, including corporate governance developments, the changing face of shareholder engagement and government intervention in M&A, as well as on investment management topics such as succession planning and investment.