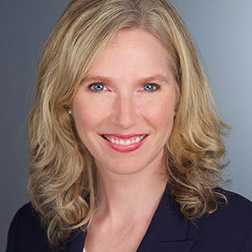 As counsel in the Entertainment Department, Carolyn J. Casselman is engaged in representing individuals and companies in all aspects of the entertainment industry, including film, television, publishing, music, digital platforms and live stage. Her practice covers a range of matters such as advising financiers in connection with film and live stage investments, representing producers in the acquisition of underlying material for exploitation in a variety of media, negotiating collaboration and publishing agreements on behalf of authors, publishers and celebrity personalities, and representing directors, designers, writers, rightsholders and producers in all manner of live stage, motion picture and television transactions.
In addition, Ms. Casselman regularly advises companies in connection with mergers, acquisitions and financing transactions in the media, sports and entertainment space, spanning a range of assets and activities, including television production and programming, film libraries, music catalogs, sports teams, sponsorships and talent representation.
Ms. Casselman is an adjunct professor in the MFA program at Columbia University School of the Arts, and has guest lectured at Columbia Law School and Brooklyn College.
EXPERIENCE
Corporate Transactions
Acquisition by Sky, a European pay TV operator, of a 60% stake in U.S.-based production company Jupiter Entertainment.
Imagine Entertainment in connection with an investment by the Raine Group.
Investment by AIG in notes issued by Larry Levinson Productions to finance made-for-television movies.
William Morris Endeavor in connection with its acquisition of IMG Worldwide.
InterMedia Partners in the acquisition by Hemisphere Media Group's of Pasiones, Centroamerica TV and TV Dominicana cable networks.
Formation of, and subsequent production deals for, the El Rey cable television network focused on the Hispanic community on behalf of filmmaker Robert Rodriguez and FactoryMade Ventures.
Important Studios formation by Trey Parker and Matt Stone, the creators of South Park and Book of Mormon, to serve as a new multi-platform media company which will house all of Stone and Parker's current and future entertainment activities.
Private Investors in the purchase of the Florida Panthers of the National Hockey League.
The initial purchasers in connection with the issuance of $550 million of securitized notes backed by revenues from the Miramax film library, in the first film securitization closed after the financial crises.
Warner Music Group in connection with its sale to Access Industries for approximately $3.3 billion ("M&A Deal of the Year," The Deal Magazine).
Media, Sports and Entertainment Transactions
Sequential Brands, owner of Martha Stewart Living Omnimedia, in an agreement with Meredith Corporation with respect to the Martha Stewart Living and Martha Stewart Weddings publications and digital content.
Representation of major New York not-for-profit institutional theaters in connection with production and enhancement agreements, and representation of commercial producers and investors in all manner of live stage business, including Broadway, off-Broadway and national tours.
Representation of well-known stage personality in connection with a series of New York Times best-selling children's books.
Advice to The Tee and Charles Addams Foundation in connection with The Addams Family Musical.
Advice to The Cole Porter Trusts regarding live stage production and other exploitation of the Cole Porter library.
Negotiation of e-book agreement between key independent publisher and major online retailer.
Representation of restaurant review curator in connection with digital media agreements.
Negotiation of programming agreement between sports team and regional sports network.
Publications
Corporate Transactions in the Entertainment Industry: Special Considerations for Copyright Assets, Mergers & Acquisitions Law Report (Bloomberg BNA) (2016)
Counseling Statutory Successors Regarding Copyright Termination, Entertainment, Arts and Sports Law Journal (New York State Bar Association) (Fall/Winter 2012)
Copyright Termination in M&A Transactions, Bright Ideas (a publication of the Intellectual Property Section of the New York State Bar Association) (Winter 2011-2012)
How to Produce and Perform:  A Guide to Audio-Visual and Live Stage Licensing and Acquisition, International Intellectual Property Institute (2007)
Waltzing with the Muse or Dancing with the Devil: Enhancement Deals Between Nonprofit Theatres and Commercial Producers, 27 Colum. J.L. & Arts 323 (2004)
Note:  Staffing the 21st Century Theatre:  Collective Bargaining and Technological Evolution, 25 Colum. J.L. & Arts 401 (2003)
Speaking Engagements
July 2018: Dramatist Guild National Conference
February 2018: Duke Law School Sports & Entertainment Law Symposium: Immersive Technology in Sports and Entertainment
April 2015: Columbia Law School Entertainment, Arts and Sports Law Society Spring Symposium: Big Screen to Computer Screen
October 2014: Foundation Center: Starting Your Non-Profit Theater Company
October 2014: MediaXchange/Film i Väst: Swedish Producer Sessions
May 2014:  Association for Corporate Growth New Jersey, Women of Leadership:  The Business of Broadway
May 2014:  Volunteer Lawyers for the Arts: Visual Art and Theatre Law Essentials
January 2013:  Duke Law School Third Annual Sports & Entertainment Law Symposium