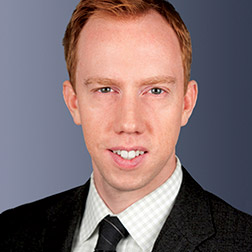 As counsel in the Corporate Department, Christopher Poggi is a member of firm's Finance Group, where he represents financial institutions, private equity sponsors and major corporations in connection with the design and negotiation of specialized finance structures, securitization and asset-backed finance, and secured and unsecured leveraged financings. He regularly advises clients in connection with complex, high-profile securitizations involving esoteric assets such as film rights, music and other intellectual property royalties and restaurant and other franchised business revenues. He is also regularly involved in restructuring negotiations relating to distressed financing transactions and has advised clients in connection with the successful workout of various forms of distressed debt.
EXPERIENCE
Chris's experience includes the representation of:
Arby's Restaurant Group, Inc. in connection with its $600 million whole-business securitization of the Arby's branded restaurants, backed primarily by franchise royalties and licensing fees from company-owned restaurants in the United States, Canada and certain international jurisdictions, and the subsequent $100 million add-on transaction;
dick clark productions in connection with the issuance of $340 million of notes backed by revenues from the future production of five annual live event television programs: Dick Clark's New Year's Rockin' Eve, the American Music Awards, the American Country Music Awards, the Billboard Music Awards, and the Golden Globes;  
Wellspring Capital Management in connection with all aspects of its financing requirements, including the negotiation of the leveraged buyout debt for more than a dozen portfolio company acquisitions and subsequent refinancings and distressed debt situations, as well as the fund's capital call facilities;
AIG as investor in notes issued by Larry Levinson Productions to finance made-for-television movies;
CKE Restaurants Holdings, Inc. and Apollo Global Management LLC in connection with the whole-business securitization of the Carl's Jr. and Hardee's restaurant chains worldwide, consisting of $1.05 billion in bonds backed by franchise royalty rights, company-owned restaurant revenues, stores and the related brands;
The initial purchasers in connection with the issuance of $500 million of securitized notes backed by revenues from the 700+ films in the Miramax film library, in the first film securitization closed after the financial crisis, and the subsequent $275 million refinancing;
Tribune Company, a media company that owns television stations including WGN America and newspapers including the Chicago Tribune and the Los Angeles Times, in a $1.1 billion covenant lite term loan led by JP Morgan and a $300 million asset based facility led by Bank of America made in connection with Tribune's exit from Chapter 11;
Ambac Assurance Corporation in major structured financings of film assets of more than $3 billion in the aggregate for The Weinstein Company, Marvel Studios, Universal Studios, Inc. and DreamWorks;
HSBC, as lender to the Estate of Michael Jackson in an $80 million music royalty receivables financing backed by Michael Jackson's music assets, and a major investment bank in a private placement of $300 million in asset-backed notes issued by a bankruptcy-remote vehicle owning Michael Jackson's direct and indirect interests in other music copyrights, including the Beatles catalog;
major financial institutions and issuers in connection with various other forms of asset securitizations generally, including agricultural receivables securitization facilities for John Deere, an accounts receivable factoring product for a major investment bank and structured facilities backed by rights in aircraft, cellular towers, oil and gas assets and insurance products;
major private equity sponsors, corporations and financial institutions in connection with numerous leveraged acquisition financings and bridge loans, syndicated senior and second lien credit facilities, mezzanine financings, asset-based loans, and corporate revolving credit facilities, including investment-grade facilities; and
Citigroup and other major financial institutions in connection with the restructuring and bankruptcy of various distressed structured financing transactions, including oil and gas assets, motion picture and student loan receivable securitizations.