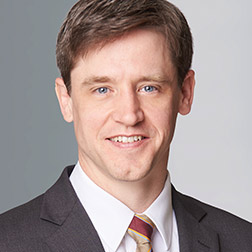 A counsel in the Antitrust Group, Dan Howley advises clients on antitrust matters, including litigation, mergers and acquisitions, and civil and criminal investigations by the U.S. Department of Justice and the Federal Trade Commission. He also has significant experience in commercial litigation involving contractual disputes, business torts and shareholder class action and derivative claims.
EXPERIENCE
Dan has represented clients in matters involving a wide variety of industries, including software, hardware, advertising, steel, paper, food and beverage, chemicals, oil and gas, automobiles, airlines, shipping, industrial machinery, construction, insurance, pharmaceuticals, print media, video programming, musical instruments, ride sharing services, delivery services and financial services.
Notable representations include:
Cigna Corporation in connection with the antitrust review of its $67 billion acquisition of Express Scripts, and in connection with its proposed $54 billion merger with Anthem, Inc. and the related litigation;
Farelogix Inc. in connection with the antitrust review of its agreement to be acquired by Sabre Corporation and the subsequent litigation and trial verdict in favor of Farelogix and Sabre over the United States Department of Justice;
Nestlé USA in connection with a complex multidistrict antitrust proceeding involving 92 cases alleging pricing fixing of chocolate confectionaries;
US Airways in connection with the antitrust review of its $17 billion merger with American Airlines and the related litigation filed by the United States Department of Justice and several state attorneys general;
AK Steel Holding Corp. in connection with several antitrust class action complaints, alleging a conspiracy among steel manufacturers to reduce output;
The U.S. Treasury in connection with the bailout of General Motors and Chrysler; and
Microsoft Corp. in connection with its acquisition of Yahoo!'s search business and subsequent partnership agreement with Yahoo!.
The Cigna/Express Scripts transaction was nominated for "Merger Control Matter of the Year – Americas" at the 2019 Global Competition Review Awards. Similarly, the defense of Nestlé USA in the Chocolate Confectionary Antitrust Litigation was nominated for 2015 "Litigation of the Year - Cartel Defence." The defense of the US Airways/American Airlines merger won the Matter of the Year Award at the 2014 Global Competition Review Awards.
Dan received a J.D. from the University of Pennsylvania Law School and an undergraduate degree in Electrical Engineering and Physics from Duke University. He has been named a "Rising Star" in Washington, D.C., by Super Lawyers Magazine multiple times and has been recognized in The Legal 500 for his "excellent" work on merger control matters. He has authored multiple articles and speeches on antitrust topics such as merger litigation strategy and patent reverse payment settlement agreements.