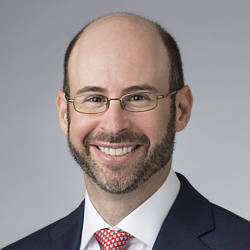 A counsel in the Litigation Department, David Kessler is a former federal prosecutor and experienced trial and appellate lawyer. He focuses on a variety of litigation and regulatory matters, including white collar matters, cybersecurity matters, complex business litigation, national security matters, internal investigations and regulatory enforcement proceedings.
EXPERIENCE
During his seven-and-a-half-year tenure as an Assistant U.S. Attorney in the Eastern District of New York, David served as director of the office's Cybercrime Task Force and as a senior member of the National Security and Cybercrime Section, handling some of the office's most significant and high-profile criminal investigations and prosecutions. David was a principal architect of the government's investigation and prosecution of Huawei Technologies Co. and its CFO, cases that involved allegations of financial fraud against four international financial institutions, intellectual property crimes, money laundering and sanctions violations, as well as a two-year extradition litigation in Canada, among other matters. He received the National Intelligence Meritorious Unit Citation from the U.S. Director of National Intelligence and the FinCEN Director's Law Enforcement Award related to the Huawei investigation.
An experienced courtroom advocate, David conducted six jury trials and argued 16 cases before the U.S. Court of Appeals for the Second Circuit on matters involving trial evidence, criminal procedure and sentencing. He also frequently argued significant motions, including motions for new trials, and motions related to complex discovery issues and the attorney-client and work-product privileges. He dealt extensively with classified information and litigated multiple classified matters in federal court. David investigated and prosecuted dozens of cases involving business and securities fraud, money laundering, export control violations, FCPA violations, intellectual property crimes, public corruption and crimes related to national security, terrorism and counterintelligence. His investigations frequently related to actions taken by U.S. technology and financial services companies in foreign jurisdictions, including the People's Republic of China.
As Director of EDNY's Cybercrime Task Force, David helped to build the office's cybercrime practice, and he both led and supervised investigations and prosecutions related to ransomware attacks, insider threats and other compromises of U.S. companies, including investigations related to cryptocurrency. Since 2018, David has also taught a "Cybercrime" seminar at New York Law School, and he has been asked to speak to representatives of companies and law firms about how cybercrime victims can work with government investigators.
In addition to the Huawei prosecution, David's other public matters at EDNY included:
U.S. v. Greebel and U.S. v. Shkreli: David was a member of the trial team that prosecuted the attorney of former hedge fund manager Martin Shkreli for conspiracy to commit securities and wire fraud, and a member of the team that investigated Mr. Shkreli on related misconduct;
U.S. v. HSBC Holdings Plc: David was part of the team that oversaw the monitorship arising from the deferred prosecution agreement between HSBC and the U.S. Department of Justice;
U.S. v. Zagala: David led the investigation and prosecution of the designer of "Thanos" and "Jigsaw" ransomware, allegedly used in attacks by groups in Iran and elsewhere; and
U.S. v. Jin: David helped lead the investigation and prosecution of a China-based executive of a U.S. telecommunications company for his efforts to disrupt online meetings and support foreign law enforcement targeting of individuals in the United States.
David also served for five years as the office's Freedom of Information Act coordinator, overseeing requests for records and guiding the office's strategy in several civil lawsuits.
At Paul, Weiss, David has represented clients in a variety of complex civil and criminal matters, including disputes that went to trial in federal and state court. David has represented, among others:
a U.S. financial institution in the defeat of a multibillion-dollar arbitration claim brought by the Abu Dhabi Investment Authority related to its $7.5 billion investment in that institution;
a global energy company in an eight-month bench trial where the State of New Jersey sought a precedent-setting $9 billion in damages for environmental injuries, making it one of the largest environmental damage cases ever tried; the case settled for $225 million while awaiting verdict;
a global chemical company in various civil matters;
a State-owned energy company and its U.S. subsidiary in various civil matters, including multiple Section 1782 proceedings;
multiple individuals in investigations by the U.S. Department of Justice and the Securities and Exchange Commission, including a representation in which the SEC decided not to pursue charges against Paul, Weiss's client, the Chief Financial Officer of a U.S. public company;
a U.S. technology company, including in relation to its ongoing interactions with the U.S. Department of Justice; and
a former senior White House official in a civil litigation.
On a pro bono basis, David has argued appeals in the First Department of the Appellate Division in New York State and represented clients challenging their convictions in federal and state court, as well as in unemployment insurance hearings and asylum proceedings.
David is a member of the board of directors of the Harvard Law School Association of New York City and the Senior Advisory Counsel of the Harvard Law School Association.
Before joining the firm, David served as a law clerk for the Honorable Douglas H. Ginsburg of the United States Court of Appeals for the D.C. Circuit. David also previously worked as a business analyst at a global management consulting firm.