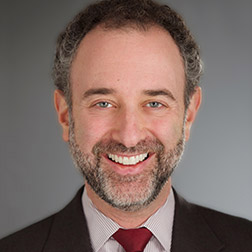 A partner in the Litigation Department and Deputy Chair of our Patent Litigation group, Eric Alan Stone focuses on patent litigation and litigation of commercial disputes, at trial and on appeal. Clients note that Eric is "terrific and blessed with excellent listening ability, great intellect and deep substantive legal and technological expertise."
EXPERIENCE
In the recent years, Eric has focused his patent practice principally in the biotechnology and pharmaceutical areas, including representing innovators under the Biologics Price Competition and Innovation Act and the Hatch-Waxman Act. Representative clients include:
Genentech in patent litigation brought by Baxalta (now a subsidiary of Takeda Pharmaceuticals) concerning Genentech's breakthrough hemophilia treatment, HEMLIBRA®; and in litigations involving the anti-PD-L1 antibody TECENTRIQ® (atezolizumab), Hatch-Waxman litigation regarding the cancer treatment ALECENSA® (alectinib), the foundational Cabilly patent teaching methods of creating antibodies using recombinant DNA techniques, and chromatographic techniques to purify antibodies;
Chugai Pharmaceuticals in IPR proceedings and in Hatch-Waxman litigation regarding the cancer treatment ALECENSA® (alectinib);
Cabaret Biotech Ltd. in an action defending the validity of Cabaret's patent on a pathbreaking CAR-T cancer therapy;
Amgen in BPCIA litigation involving applications for FDA approval of biosimilars to Amgen's NEULASTA® and NEUPOGEN®;
Biogen in litigation regarding recombinant beta interferon;
Vanda Pharmaceuticals in Hatch-Waxman litigation regarding proposed generic versions of Vanda's FANAPT® (iloperidone) and HETLIOZ® (tasimelteon); and
Craig Thompson, M.D., the President of the Memorial Sloan Kettering Cancer Center, in litigation regarding his work in cancer metabolism.
Eric is regularly recognized for his work in patent litigation by leading publications such as Chambers USA, The Legal 500 and by IAM Patent 1000 as one of The World's Leading Patent Professionals in 2022.
Eric is an adjunct professor at the New York University School of Law, where he teaches patent litigation. Eric and his co-Deputy Chair Catherine Nyarady also write a regular column for the New York Law Journal on intellectual property litigation.
COMMERCIAL LITIGATION

Eric is also a general commercial litigator, trying cases and representing clients in state and federal courts across the country, and arbitrations in the U.S. and overseas. Representative clients include:
Kohlberg & Company in Material Adverse Effect litigation related to the COVID-19 pandemic;
The American Society of Composers, Authors and Publishers (ASCAP) in proceedings to set royalties for musical compositions;
Liz Elting, co-founder of TransPerfect Translations, in sanctions proceedings against her fellow co-founder based on his conduct before and during the litigation;
The Alaska Retirement Management Board, trustee of Alaska's public pension plans, in a suit against the state's former actuary;
IBM in employment litigation; and
A law firm in connection with allegations arising out of the settlement of pharmaceutical litigation.
PRO BONO LITIGATION
Eric is a Trustee of the Lawyers Committee for Civil Rights Under Law. Representative pro bono clients include:
The SAM Party of New York in challenging changes to New York's ballot access laws;
The New York City Board of Correction in connection with its Minimum Standards that govern the City's jails;
A class of New York state's blind and severely visually impaired prison inmates in challenging the conditions of their confinement;
Five binational, same-sex couples in challenging the constitutionality of the Defense of Marriage Act; and
Persons living with HIV in actions for wrongful disclosure of their confidential medical information.
Eric was a notes and comments editor of the New York University Law Review and was elected to the Order of the Coif. Before law school, Eric participated in the New York City Urban Fellows program, working at the New York City Department of Correction.