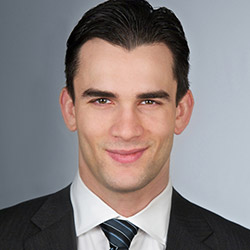 A counsel in the Corporate Department, Evan Berman is a member of the Finance Group. Mr. Berman represents underwriters, initial purchasers, lenders, sponsors, issuers and borrowers in the areas of structured and asset-based financing, acquisition finance, leasing, sports finance and a variety of regulatory matters.
Prior to rejoining Paul, Weiss, Evan was the Chief Legal Officer (Americas) at StormHarbour Securities, an independent global investment bank. While there, he was responsible for all legal matters relating to the U.S., Canada and Latin America-based capital markets, advisory services and sales & trading activities. Evan was named to The Legal 500 GC Powerlist in 2019.
EXPERIENCE
Recent experience includes representing:
J.P. Morgan and a major investment bank in connection with an approximately $1.7 billion term and revolving securitization of substantially all of the revenue-generating assets of Domino's Pizza;
The initial purchasers in connection with the issuance of $500 million of securitized notes backed by revenues from the Miramax film library, in the first film securitization closed since the financial crisis;
U.S. Treasury in its TARP Transactions with Chrysler, including its $4.0 billion term rescue financing, $1.5 billion retail installment contract securitization and $300 million Warranty Support Program;
Major League Baseball in connection with the upsizing of its $1.04 billion credit facility backed by national media revenues; and
Major commercial finance company in its 144A offerings of $700 million of equipment receivable backed notes.