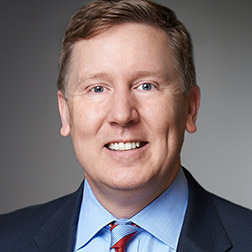 A partner in the Litigation Department, Steve Baughman focuses solely on intellectual property matters and spearheads the Paul, Weiss PTAB practice. For more than 29 years, Steve has worked with leading international companies to resolve their IP and technology-focused disputes in a broad array of litigation, licensing and counseling settings. These include patent and trade secret disputes as well as trademark, copyright and other complex commercial matters. Steve has appeared before trial and appellate courts, the International Trade Commission, domestic and international arbitration tribunals, and the Patent Trial and Appeal Board (PTAB) at the U.S. Patent and Trademark Office, and his patent litigation matters have involved both utility and design patents. IAM Patent 1000 reports that Steve is "brilliant," "unmatched," a "post-grant guru," and "supreme at the PTAB."
Steve is the leading practitioner nationally handling post-grant matters before the PTAB, created in 2011 as part of the America Invents Act. For example, over the first 4 ½ years of PTAB trials, Steve amassed a 47-0 record in final written decisions on behalf of challengers, invalidating every claim ruled on by the Board, while also turning back key challenges on behalf of patent owners. These wins invalidated or protected patents linked to district court verdicts and market valuations totaling well over $1 billion.
EXPERIENCE
Since filing multiple proceedings in the first minutes of the PTAB's operation, Steve has been counsel of record in more than 190 covered business method (CBM), inter partes review (IPR), and Post-Grant Review (PGR) proceedings, including more than 60 proceedings argued through a final hearing, as well as numerous matters where his participation is not publicly known — leading IAM Patent 1000 to dub him an "ace up [the] sleeve" and "a consummate all-round advocate and pre-eminent PTAB specialist whose hit rate invalidating and protecting patents - including many of the most valuable assets in the world - is unsurpassed," with clients praising Steve as "an excellent strategist" and "superb on the technical detail and as up to date on recent developments in the law as it is possible to be." In addition to his unrivaled record on behalf of patent challengers, Steve has also obtained numerous notable victories on behalf of patent owners, including in decisions rejecting institution or confirming the validity of key litigated claims and patents. Steve also conducts strategic patent reexaminations in connection with patent disputes.
Steve was counsel on 15 of the PTAB's first 25 CBMs, and to date has been counsel on more CBMs than any other attorney, including the first post-grant trial to reach final decision — recognized by Managing IP as "Milestone Case of the Year." Steve was named Law360's first "IP MVP" for post-grant contributions in 2013 and was short-listed for Managing IP North America Award's "Outstanding IP Litigator (PTAB)" in 2016 and for LMG Life Sciences' "Post-Grant Proceedings Attorney of the Year" in 2018. His work has also been recognized by The Legal 500 (calling him "the partner to rely on in a technical patent case"), LMG Life Sciences Stars, IAM Global Leaders 2022, Managing Intellectual Property IP Stars (Patent Star), and Who's Who Legal: Patent. Steve helped to form the PTAB Bar Association in 2016, was one of its Officers and Directors since its creation, and served as the Association's President from March 2020 to May 2021. He recently completed his service as the Association's Immediate Past President. Prior to joining Paul, Weiss, Steve chaired the post-grant Patent Office trial practice at a leading firm, where he also opened their Tokyo office.
Serving clients like Amgen, Samsung, Genentech, Fujitsu, Twitter, Motorola, Sanyo Electric Co., Ltd., IP Bridge, Simmons Bedding Company, Orbital Sciences Corporation, Olympus, Spansion, Emerson Electric and NXP, Steve has handled subject matter ranging from pharmaceuticals, semiconductors, satellites and GPS tracking systems to financial services, e-commerce, medical devices and video games. He regularly works across jurisdictions, with multiple counsel and large groups of co-defendants. He has also advised on media-related disputes and claims of plagiarism.
Examples of significant representations include:
Chugai Pharmaceutical in a significant pair of inter partes review victories against a major pharmaceutical company, defending two of its patents relating to new, simpler, less costly methods of removing DNA contaminants from proteins, a key step in the production of genetically engineered and biologic drugs. The three-judge tribunal issued final written decisions rejecting the major pharmaceutical company's arguments, finding they had failed to show that any of the challenged claims in the two Chugai patents were unpatentable; and we successfully turned back Federal Circuit challenges to both of these wins;
A major biotechnology company in a significant inter partes review (IPR) win at the Patent Trial and Appeal Board (PTAB). The proceeding sought to invalidate a patent directed to treating patients with rheumatoid arthritis, and in a final written decision the Board found the challenger, a major pharmaceutical company with a proposed biosimilar product, had failed to show any of the challenged claims to be unpatentable;
Liberty Mutual Insurance Company in filing ten petitions for CBM review, beginning the first day PTAB trials became available, challenging the validity of three patents relating to determining a cost of insurance based on vehicle monitoring, and two patents relating to online insurance policy service, all asserted by Progressive Casualty Insurance Co. in district court litigation. In one of the first such determinations based on a PTAB proceeding, the litigation was successfully stayed pending the PTAB's review. The CBM proceedings resulted in final written decisions from the PTAB invalidating every claim of each of the five challenged patents, all of which were affirmed on appeal;
Twitter, Inc. in the successful negotiated resolution of a high-profile patent infringement lawsuit brought by BlackBerry after we successfully moved to dismiss four of seven asserted patents as ineligible under Section 101, and filed IPR petitions challenging two more of the asserted patents.
SAP AG as co-counsel in a CBM trial challenging a Versata patent involving product pricing in multi-level product and organizational groups, which had previously been asserted in litigation leading to a $391 million district court judgment. This CBM trial — the first before the PTAB — resulted in a final decision in SAP's favor on June 11, 2013, and this first decision in any PTAB trial was affirmed on appeal in July 2015;
Nevro Corporation in successfully defending a pioneering patent relating to high-frequency spinal cord stimulation for inhibiting pain with reduced side effects. Working alongside co-counsel, he achieved denial of the institution of any PTAB trial on two separate IPR petitions filed by a would-be challenger;
A leading U.S. consumer electronics company in successfully pursuing a collection of more than 40 CBM petitions that together invalidated every claim (more than 150 in total) of seven litigated patents relating to the sale of digital content over the Internet. This included a group of claims that had led to a $533 million jury verdict in district court;

IP Bridge

in successfully turning back

, at the institution stage,

a PTAB challenge

brought by TSMC against

a

patent

relating to insulating film in a semiconductor device

;

A leading global pharmaceutical company in an IPR trial that, in March 2017, successfully invalidated all challenged claims of a litigated patent involving the use of Botox® to treat pain from spinal compression;
A leading medical device company in an IPR petition challenging a litigated patent relating to pedicle screw technology, resolved by settlement;
ProShare Advisors LLC, ProShares Trust, and ProShares Trust II in defending against patent infringement allegations involving geared/leveraged exchange traded funds (ETFs). Obtained summary judgment resulting in dismissal of plaintiff's claims against 127 of the 131 ETFs (and 98.5% of the assets) at issue in the litigation, followed by settlement, in a case cited in Financial Times' "Innovative Lawyers" Report (2013);
Simmons Bedding Company in successfully representing Simmons as both petitioner and patent owner against Leggett & Platt on three IPRs related to mattress technology. The Board denied in their entirety Leggett & Platt's petitions challenging two Simmons patents, and shortly thereafter instituted trial on Simmons' IPR petition challenging all 20 claims of a Leggett & Platt patent, after which Leggett & Platt canceled all 20 claims;
Spansion LLC in defending six semiconductor- and memory-related Spansion patents in eight IPRs filed by petitioner Macronix. The Board denied Macronix's petitions outright on two of these challenged patents and on other litigated claims. The IPRs were settled as part of a resolution of pending ITC and district court litigation;
Bioject Inc. v. Robert R. Gonnelli and Biovalve Technologies Inc. in defending against a suit seeking correction of patent inventorship and alleging misappropriation of trade secrets relating to needle-free injection technology. The case was successfully settled after briefing on a motion to dismiss and limited discovery;
Aisin AW Co., Ltd. in suits involving seven patents relating to vehicle navigation systems. Both suits were resolved as part of a global settlement of cases pending in the U.S., Germany and Japan, in which both companies received licenses under the other's patents;
CyberSource Corporation v. Retail Decisions, Inc., et al. in a patent infringement dispute relating to fraud detection in Internet credit card transactions, successfully narrowing and staying the suit pending ex parte reexamination of the asserted patent, where the plaintiff amended all of its claims. Upon lifting of stay, he filed summary judgment motions to invalidate the asserted claims. Based on one of these motions, following the Federal Circuit's Bilski decision, Judge Patel found all asserted claims invalid for failure to claim patentable subject matter; and
NJOY in IPR petitions challenging patents related to electronic cigarette technology, resolved by settlement.