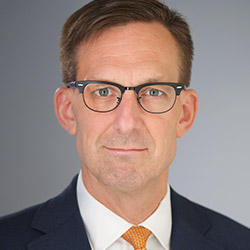 Jack Baughman is a trial lawyer who specializes in high stakes, extremely complicated litigation. Since 2008 he has defended claims against his clients totaling more than $30 billion. He prepares every case on the assumption that it will go to trial and is one of very few lawyers in the United States who has won multiple multi-billion dollar jury verdicts.
EXPERIENCE
Currently, Jack is preparing to try a reinsurance case for an international insurance company, a dispute between a prominent New York company and its former CEO, and a murder case where the State is seeking the death penalty. As has been true for many years, Jack's practice is based on his trial work. He is frequently hired to replace prior counsel when a case needs to be tried and his ability to go to trial gives his clients important leverage in settlement negotiations. 
In 2016, Jack was brought in as lead trial counsel for a major Wall Street Bank in one of the few Section 10b-5 cases ever to go to trial.  Following two months of trial, after the close of the evidence, the plaintiff agreed to settle for 12 percent of his original demand.
In the fall of 2015, Jack was brought in as the lead trial lawyer for Citigroup in a $900 million fraud case. He replaced prior counsel and prepared the case for trial in three months. Just before openings the plaintiff agreed to settle for a small fraction of its claimed damages, taking less than 5 percent of its original demand.
From January through September 2014, Jack was the lead trial lawyer for a major international energy company in a $9 billion precedent-setting natural resource damages case. Following sixty-six days of testimony and closing arguments, the plaintiff agreed to settle for less than 2.5 percent of its claimed damages. Final judicial approval of this settlement is pending. 
Also, in the past few years, Jack has obtained several major victories for Citigroup, including:
In 2013, Jack won summary judgment for Citigroup in Sungate Securities v. Citigroup. The bank was accused of breach of fiduciary duty in connection with the sale of limited partnership interests. The claims asserted threatened core aspects of Citigroup's business model and put billions of dollars at risk. Jack ran the case for three years and assembled a record that enabled him to make a successful summary judgment argument in the trial court. In September 2014, the Florida Court of Appeals affirmed.
Between 2010 and 2014, Jack defeated a series of claims brought against Citigroup by investors in Norway, including a securities broker, a pension fund, a private office and seven municipalities, all of which claimed to have been defrauded when purchasing derivative securities. In a series of important decisions, Jack obtained three separate summary judgment rulings, all of which have been affirmed on appeal. To obtain these results, Jack managed an international team and spent several months in Norway conducting discovery and appearing in the Norwegian courts to obtain evidence. He argued all of the motions in the trial court and all of the appeals in the Second Circuit.
In 2010, Jack and two of his partners were trial counsel for Citigroup in Terra Firma v. Citigroup, where the bank was accused of fraud in connection with the sale of the music company EMI. Jack took the lead in preparing the case in only ten months; then, he and his colleagues went to trial, facing claims of more than $7 billion. The jury returned a verdict in less than five hours, clearing Citigroup of all charges.
Similarly, in 2008, Jack and one of his partners were trial counsel for Citigroup in Bondi v. Citigroup, a suit arising out of the collapse of the Italian dairy company, Parmalat. In this case, Jack managed preparation of the case for four years, overseeing a large team of lawyers and other professionals. At trial, they not only defeated claims worth over $12 billion, but they also obtained a jury verdict in favor of Citigroup for $364 million on the bank's counterclaim. This was the largest defense verdict in the country in 2008. In 2011, Jack argued the appeal in this case and the New Jersey appellate court affirmed the verdict in all respects. In August 2014, the New Jersey judgment was also upheld by the Italian Court of Appeals in Bologna.
In another recent case, Jack was the lead trial lawyer in Chambers v. Catullo, acting for the plaintiff in a unique libel case. Following a three month trial, Jack obtained a permanent injunction in favor of his client, a prominent international philanthropist. This result - successfully enjoining defamatory speech - is extremely rare.
In other areas, Jack has handled matters involving commercial disputes, false advertising, product liability and antitrust. He has tried cases in state and federal courts, as well as in arbitration proceedings. Specific matters include:
defending Raymond Bitar, the former CEO of Full Tilt Poker, who was charged with a variety of crimes relating to online gambling;
representing Bank of America in a major securities class action in federal court;
securing a victory for a Canadian oil company in a London arbitration concerning insurance coverage;
obtaining a successful settlement for an international mining company in an arbitration against the Government of Indonesia;
representing two executives of a major U.K. bank in an investigation of allegedly illegal payments, resulting in no charges against them;
serving as trial counsel for a Russian industrial company involved in a commercial dispute tried in the United States;
representing the U.K. member of one of a big four accounting firm in an SEC investigation; and
representing a former executive of a European defense contractor in an FCPA investigation conducted by the U.S. Department of Justice.
Jack's cases frequently involve overlapping civil, criminal and regulatory actions. He has handled cases brought by numerous U.S. regulators, including the Department of Justice, the SEC, various state Attorneys General and the Manhattan District Attorney. Many of Jack's matters are international, and he spends a significant amount of time in the United Kingdom and Europe. In addition to dealing with U.S. regulators, he has advised clients in proceedings in the U.K., Europe and Hong Kong and has appeared in court in Guernsey, Italy and Norway. Also, in 2012, he served as an expert on New York law in a case in the High Court of Justice in London. The judge relied on Jack's evidence in a reported decision.
Jack has been named the AmLaw Daily's "Litigator of the Week," has been recognized by Benchmark Litigation and, from 2012 to 2016, was named one of the top 500 Lawyers in America by Lawdragon magazine. He also is an honorary member of COMBAR, the London commercial barristers' organization.