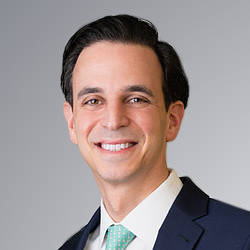 A counsel in the Antitrust Group, Jared Nagley focuses his practice on complex antitrust matters, including mergers and acquisitions, strategic counseling, conduct investigations, and litigation, where he represents clients before the Federal Trade Commission (FTC), the Department of Justice's Antitrust Division, and state and international enforcement authorities.
Prior to joining the firm, Jared spent eight years at the FTC's Bureau of Competition, where he led investigations and litigations throughout the United States across a variety of industries, including healthcare, consumer goods, technology and industrial products. Jared negotiated civil settlements, including consent decrees involving significant divestitures, and regularly represented the Commission in joint investigations and litigations with state attorneys general and foreign competition authorities. Jared served as the FTC's lead attorney in several significant public matters that resulted in Commission victories at the federal appellate level, the abandonment of transactions when faced with a Commission complaint, and settlements requiring divestitures, including Penn State Hershey Medical Center/Pinnacle Health System and Navicent Health/Houston Healthcare, among others.
Before joining the FTC, Jared worked at two national law firms where he represented a broad range of clients, including Vlingo in its acquisition by Nuance, Green Mountain Coffee Roasters in its acquisition of Diedrich Coffee, Google in its sale of Motorola Home to Arris, Becton, Dickinson and Company in the sale of its BD Biosciences – Discovery Labware unit to Corning, U.S. Oncology in its acquisition by McKesson, and Wrigley in its acquisition of certain Kraft brands, including Altoids and Lifesavers.
Jared is a frequent speaker on panels sponsored by the ABA, AHLA and NYSBA, and is a regular guest lecturer for graduate students in healthcare economics.