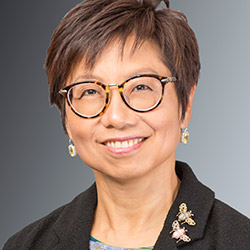 Hong Kong
Hong Kong Club Building, 12th Floor
3A Chater Road, Central
Hong Kong
Fax: +852-2840-4388
+ vCard
ADD TO CONTACTS
Jeanette K. Chan is a partner in the firm's Corporate Department and also head of the Asia Communications and Technology Practice. She is based in the firm's office in Hong Kong.
EXPERIENCE
Jeanette's practice focuses on cross-border mergers and acquisitions and private equity investments, with a particular emphasis on joint venture transactions and in the telecommunications, IT and media markets in the Asia Pacific region.  She has been an active participant in those markets in the Greater China region since 1994, when mainland China and Taiwan first opened their telecoms industries to foreign investors. The other industries Jeanette has been actively involved in include insurance, education, pharmaceuticals, health care, and automotive.
Jeanette joined the firm in 1986, spent the first few years with Paul, Weiss in Hong Kong, New York, Beijing and Shanghai.  In 1992, she relocated to Hong Kong from New York, spent almost two years as the Senior International Legal Advisor of Cable & Wireless, plc for the Asia Pacific region, assisting with their operations and business development teams in the region. In 1994, she rejoined Paul, Weiss and has been a leader in the firm's practice in these areas in the Asia Pacific region.  She has extensive experience representing multinational and regional corporations, financial institutions, private equity funds  and sponsors in their investments and operations in the region.
Selected transactions Jeanette has been involved in recently include advising:
Naspers, 

a South African media group, on its disposal and placing of approximately 2% of the issued share capital of Tencent, which raised gross proceeds of approximately US$9.8 billion;

PAG

, a China-based private equity firm, in its investment in Joyson Key Safety Systems, a Michigan-based developer and manufacturer of automotive safety systems. As part of the transaction, Joyson Key Safety Systems acquired assets from Takata Corporation out of cross-border bankruptcies in the United States and Japan for US$1.58 billion;

SoftBank Vision Fund

, alongside various global investors, in the US$1.9 billion investment in Full Truck Alliance, a China-based truck-hailing company;

Tencent

on a number of key investments globally including its acquisition of an 80% stake in Grinding Gear Games; its investment in Skydance Media; its US$604 million investment in Vipshop Holdings Ltd; its investment in Yixin Capital; its US$200 million cash investment in Zhuan Zhuan; its

US

$1.58 billion joint investment with Alibaba Group and Oriza Holdings in CMC Holdings; in a US$1.55 billion joint investment with JD.com in Bitauto Holdings

Limited; and

as part of a consortium of investors in the US$1 billion privatization of Bona Film Group Limited;

The

Carlyle

Group

on a number of key investments in China and Taiwan including its investment in Adicon Holding Limited;

the investment and sale of

its

shareholding in Natural Beauty Bio-Technology Limited; in the US$2.4 billion sale of all its interest in kbro, Co., Taiwan's largest cable TV operator, to Wealth Media Co.

; and

in the

disposal

of its stake in Taiwanese bank Ta Chong Bank Limited in a share swap with Yuanta Financial Holdings Ltd.;

Universal

Parks & Resorts

in connection with the proposed Universal Beijing Resort project which will include the Universal Beijing Theme Park and other resort components; and

An international private equity investor in its investment in the HK$14.5 billion (US$1.9 billion) acquisition of the fixed-line businesses in Hong Kong from Hutchison Telecommunications Hong Kong.
Jeanette's other career highlights include advising:
Ageas Insurance International N.V. in the US$1.38 billion sale of its Hong Kong insurance subsidiary to JD Capital, a China-based asset manager;
DreamWorks Animation on its ground-breaking joint venture with various Chinese partners to establish the leading China-focused family entertainment company in the PRC – Oriental DreamWorks; and in its investment in "Shanghai DreamCenter", a US$2.4 billion cultural real estate project that will consist of commercial real estate, office buildings and culture/entertainment components;
Microsoft Corporation on a number of key investments in China including its joint venture with China Electronic Technology Corporation (CETC) to license, deploy, manage and optimize Windows 10 for China's government agencies and certain state-owned enterprises in mission critical infrastructure sectors and to provide ongoing support and services for these customers; and on its US$237 million joint venture with BesTV New Media, a subsidiary of Shanghai Media Group, to develop and distribute software and related products for home gaming entertainment in China;
Shanghai Shendi Group Co., a new PRC state-owned enterprise, in its joint venture with The Walt Disney Co. to build its first mainland China theme park in Shanghai. The Shanghai Disney theme park is the first world-class and Disney branded resort encompassing Chinese and Shanghai characteristics in China. The joint venture, ten years in the making, was an extremely complicated transaction and is said to be worth US$5.5 billion;
Shaw Kwei & Partners Limited on a number of key investments in the region including the acquisition of Beyonics Technology Limited, a major player in the electronics manufacturing and precision engineering services landscape in Asia; and in the US$190 million sale of YongLe Tape Company Ltd., a leading Chinese manufacturer of specialty tapes, together with its founder and senior management, to Avery Dennison;
Zhonghong Zhuoye Group Co., Ltd., a China-based diversified holding company, in the structuring and review of various licensing agreements with SeaWorld Entertainment, Inc., a Florida-based theme park and entertainment company, in connection with the development of theme parks and family entertainment centers in China; and
Completed numerous transactions for clients including Asia Satellite Telecommunications, Astro All Asia Networks plc, Eastman Chemical, General Atlantic, MIH Asia Limited (Naspers), Motorola, Nan Fung Group, Sony Pictures, Silver Lake Partners and Soros Fund Management.
Jeanette is frequently recognized as one of the world's leading PRC law practitioners, particularly in the communications, media and technology industries, by various publications, including:
"Band 1" Leading Individual for private equity/buyouts & venture capital investment (international firm) and TMT (international firm) in China by Chambers Asia-Pacific (2018)
"Leading Individual" for TMT in Hong Kong and private equity/venture capital (foreign firm) in China by The Legal 500 Asia Pacific (2018)
"Highly regarded" in Hong Kong for private equity and M&A by IFLR1000 (2018)
"Dealmaker of the Year" at the Asian Legal Business Hong Kong Law Awards (2017, 2015)
"Best in TMT" at the Euromoney Legal Media Group's Asia Women in Business Law Awards (2017)
"Outstanding Practitioner Award" at the Euromoney Legal Media Group's Asia Women in Business Law Awards (2016)
"International Dealmaker of the Year" at the China Law & Practice awards, a publication of ALM Media Properties, which also publishes The American Lawyer (2016)
Leading Lawyer for Corporate and Telecommunications, Media & Technology in Hong Kong by Who's Who Legal (2016)
Jeanette is passionate about advancing the gender discussion and often champions and supports causes and events led by organizations like The Women's Foundation, 100 Women in Finance, 30% Club, Hong Kong Federation of Women Lawyers  and Women in Law Hong Kong. Jeanette sits on the Women In Law Hong Kong (WILHK)'s Advisory Board and acts as a key adviser in driving diversity and women initiatives in the legal sector in Hong Kong. 
Jeanette is a member of the New York Bar. She is also admitted to practice law in Canada and Hong Kong and is a non-practicing solicitor of England and Wales.