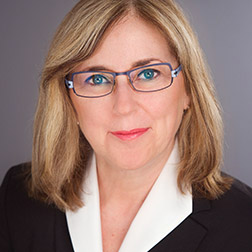 Jennifer Gordon is skilled in life sciences-related patent law. She has extensive experience in complex patent litigation involving biotechnology, pharmaceutical and other life sciences and chemistry-related patents. She has tried cases to judges and juries and argued appeals before the Court of Appeals for the Federal Circuit.
EXPERIENCE
Dr. Gordon's practice currently focuses on biotechnology-related patent litigation on the innovator side, including BPCIA cases. She also has extensive experience in client counseling (including validity, infringement and freedom-to-operate analyses; strategic planning in patent procurement; as well as IP due diligence investigations related to corporate transactions). She has been involved with various patent office proceedings in the United States and abroad, including reexaminations, inter partes reviews and oppositions. She has worked with foreign counsel to coordinate and implement strategies for procuring, enforcing and defending patent rights on a worldwide basis.
Over her career, Dr. Gordon has litigated, procured and counseled on a vast array of patented technologies in the life sciences, such as immunotherapies, including CAR-T technology, nucleic acid amplification technologies (PCR), recombinant DNA technologies, cell culture methodologies, protein purification technology, biological therapeutics (interferons, human growth hormone, monoclonal antibodies, receptor decoys, stem cells, antisense oligonucleotides and bispecifc antibody-based hemophilia treatments), growth factors, enzymes, vaccines, genetically engineered plants, pharmaceutical compounds (cefadroxil, ezetimibe, rosiglitazone, capecitabine and valsartan), medical devices (stents and pen injectors) and medical diagnostics (PCR, in situ hybridization, immunoassays and NMR contrast agents).
Dr. Gordon is a member of the American Intellectual Property Law Association, The Federal Circuit Bar Association, The New York Intellectual Property Law Association, The New Jersey Intellectual Property Law Association, and The American Chemical Society. She is a frequent lecturer on numerous intellectual property topics, particularly with respect to biotechnology patent law. Ms. Gordon has been named in publications such as Chambers USA.