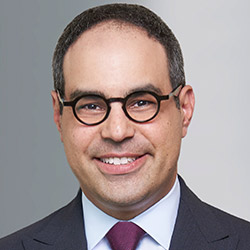 Jonathan Kanter is co-chair of the Antitrust Group and a partner in the Litigation Department. Jonathan is among the world's leading practitioners in the areas of media, technology, advertising and online content. He regularly represents clients before the U.S. Federal Trade Commission (FTC), Department of Justice and State Attorneys General in complex matters involving antitrust and data privacy. A leading voice on competition and technology policy, Jonathan has testified as an expert before the U.S. Senate and the FTC.
EXPERIENCE
Jonathan currently represents some of the world's most notable media and technology companies, including news publishers, digital media agencies, providers of online services, performance rights organizations, content companies, trade associations, streaming data providers, telecommunication and mass media conglomerates and software developers, among others.
Jonathan also has substantial experience advising clients on antitrust and consumer protection issues involving the use of technology and data across a wide range of other industries, including consumer products; chemicals; oil and gas; energy; financial services; food, beverage, wine and spirits; gaming; hospitality; manufacturing and industrials; pharmaceuticals and healthcare; and retail.
Recent and current representations include multiple companies in connection with worldwide investigations of technology companies and numerous additional non-public matters, multibillion-dollar deals in the online services, health services and media and entertainment industries, and various FTC and state investigations.
Jonathan worked at the FTC where he investigated major matters involving internet providers, music publishers, online services, supermarkets and oil and gas, among others.
Industry publications rank Jonathan among the nation's top antitrust lawyers. Since 2010, Chambers USA has ranked him as a leading lawyer for antitrust. The Legal 500 recognizes Jonathan for his strength in economic analysis and for "providing practical and high-quality advice" to clients. Law360 honored Jonathan as one of the top five antitrust lawyers under the age of 40, in addition to recognizing him as one of the nation's "go-to" antitrust lawyers for internet and technology companies. Jonathan was featured in the 2019 edition of Variety's "Legal Impact Report," which highlights the top attorneys in the entertainment business. Global Competition Review and Who's Who Legal recognized Jonathan as one of the top competition lawyers under the age of 45 in the 2017 edition of WWL: Competition – Future Leaders. The Washingtonian and Super Lawyers list Jonathan as one of the "best lawyers" in Washington, D.C.
Jonathan has written for a wide range of publications on antitrust-related topics, including co-authoring a chapter in Chambers Legal Practice Guide: Merger Control that analyzes merger enforcement in the U.S. He regularly publishes articles relating to competition policy, including a recent Op-Ed for The New York Times. Jonathan is frequently asked to speak on antitrust and competition-related topics, including before various U.S. government and regulatory bodies. He recently testified before the Senate Committee on the Judiciary's Subcommittee on Antitrust, Competition Policy and Consumer Rights regarding the historical differences in U.S. and EU antitrust laws. He also recently spoke about antitrust enforcement in high-technology markets at a session of the FTC's Hearings on Competition and Consumer Protection in the 21st Century.