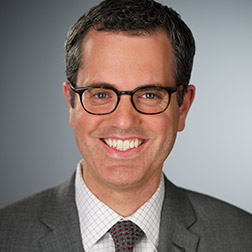 Justin Rosenberg is a partner in the Corporate Department and a member of the firm's Mergers & Acquisitions Group and Private Equity Group. Justin's practice focuses on mergers and acquisitions, corporate and securities law and corporate governance issues. He has extensive experience in public and private company acquisitions, divestitures, cross-border transactions, private equity transactions, securities offerings and corporate governance matters. Justin is recognized by The Legal 500 as a recommended lawyer in private equity buyouts.
EXPERIENCE
Justin's recent transactions include representing:
ADT Inc. in its acquisition of Defenders Inc., and in its investment from Google in connection with the companies' establishment of a long-term commercial partnership
Air Methods in its acquisition by affiliates of American Securities
Funds managed by affiliates of Apollo Global Management in their acquisitions of Outerwall (n/k/a Coinstar), Shutterfly, Snapfish and Yahoo!
Aptiv in its autonomous driving joint venture with Hyundai Motor Group
The Independent Directors of Avon Products in its acquisition by Natura & Co.
ecoATM, a portfolio company of funds affiliated with Apollo Global Management, in its sale of a minority stake to Cowen Sustainable Advisors, a division of Cowen Inc.
The Kraft Heinz Company in its attempted acquisition of Unilever
The Medicines Company in its sale to Novartis
Qualcomm in connection with its successful defense against the unsolicited offer and proxy fight from Broadcom and in the proposed acquisition of NXP Semiconductors
Redbox in its combination with Seaport Global Acquisition Corp., a publicly-traded special purpose acquisition company
Searchlight Capital Partners in its acquisition, alongside ForgeLight, of a majority stake in Univision Holdings
Shutterfly, a portfolio company of funds affiliated with Apollo Global Management, in its acquisition of Spoonflower
Univision Holdings in its acquisition of content and media assets of Grupo Televisa, S.A.B.
Justin was also involved in numerous notable transactions prior to joining Paul, Weiss, including advising:
Abbott Laboratories in its spin-off of AbbVie
Carlson Hotels in its sale to HNA Group
Delta Airlines in its merger of equals with Northwest Airlines
Dubai Aerospace Enterprise in its sale of StandardAero to Veritas Capital
The Lerner family in its sale of the Cleveland Browns to an entity controlled by Jimmy A. Haslam, III
M&T Bank in its acquisition of Hudson City Bancorp
Marshall & Ilsley Corporation in its sale to Bank of Montreal
Mirant Corporation in its merger of equals with RRI Energy
Phillips-Van Heusen Corporation (n/k/a PVH Corp.) in its acquisition of Tommy Hilfiger B.V. and its acquisition of The Warnaco Group
The PNC Financial Services Group in its acquisition of Royal Bank of Canada's U.S. retail banking business; the sale of its Global Investment Servicing business to Bank of New York Mellon Corporation; and its acquisition of National City Corporation (and related divestiture of 61 National City bank branches)
Ticketmaster Entertainment in its merger of equals with Live Nation