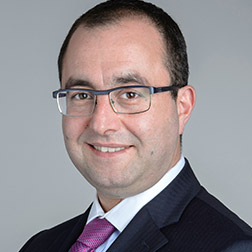 London
Alder Castle
10 Noble Street
London, United Kingdom EC2V 7JU
Fax: +44-20-7900-6920
+ vCard
ADD TO CONTACTS
A partner in the Corporate Department and Deputy Head of the firm's London office, Ramy focuses his practice on cross-border mergers and acquisitions and strategic joint ventures, particularly in connection with private equity related transactions.
Ramy has experience advising on a wide range of complex, cross-border M&A transactions and strategic joint ventures across Europe (including, Germany, France, Portugal, Italy, Slovenia and more), particularly focusing on financial institutions.
EXPERIENCE
Ramy has been involved in numerous matters involving Apollo Global Management, LLC and its affiliated-funds' portfolio companies, including Nova Kreditna Banka Maribor (NKBM), Seguradoras Unidas, S.A. (f/k/a Companhia de Seguros Tranquilidade), Bremer Kreditbank AG (BKB) and Alteri Investors.
Ramy began his career with Paul, Weiss in the New York office and has resided in the London office since 2014. He received his LL.B. and B.A. in Economics from the Hebrew University of Jerusalem in 1996. Upon completion of a one-year clerkship, he returned to the Hebrew University and completed an LL.M. degree in 1999 from the Faculty of Law and an M.B.A., magna cum laude, from the Jerusalem School of Business Administration in 2000. He received a second LL.M. from the University of Pennsylvania Law School in 2001 and his SJD, from the University of Pennsylvania Law School in 2003. He was admitted to the New York State Bar in 2002 and the Israel Bar in 1997.