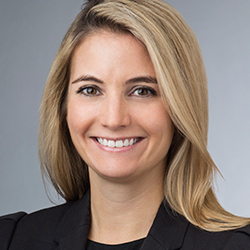 Emily Donohoe is a full-time Paul, Weiss Pro Bono Attorney, working to manage the firm's pro bono efforts and to develop partnerships with legal services organizations and clients. Emily focuses exclusively on transactional pro bono matters, including advising nonprofit organizations, small businesses and social enterprises.
EXPERIENCE
Prior to joining Paul, Weiss, Emily was a capital markets associate at another global firm, where she focused on domestic and international financings, restructurings and public company reporting obligations.
While at her previous firm, Emily was seconded to Acumen, a nonprofit impact investment fund that invests in low-income communities in developing countries across sub-Saharan Africa, South Asia, Latin America and the United States. During her time at her previous firm, she maintained an extensive pro bono practice related to impact investing, microfinance, criminal justice reform and women's rights. She was a pro bono award winner in 2016 and 2017 for her work related to a clemency matter on behalf of a nonviolent federal drug offender.
Next, Emily worked at TrustLaw, the pro bono arm of the Thomson Reuters Foundation, where she managed relationships and assessed transactional legal issues for TrustLaw's network of nonprofits and social enterprises in North America, and connected them with law firms and in-house legal teams to encourage pro bono engagement.