Merck Prevails in Vytorin Securities Litigation
Paul, Weiss secured the final dismissal of remaining claims brought by investors in a decade-long securities law dispute against our clients Merck & Co., Inc. and Schering-Plough Corporation.
Cumulus Media to Exit Chapter 11 Bankruptcy
Paul, Weiss secured court approval for radio broadcasting company Cumulus Media Inc.'s financial reorganization plan in connection with its Chapter 11 bankruptcy.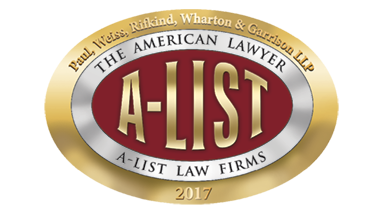 The American Lawyer has ranked Paul, Weiss third in its annual "A-List," which ranks firms based on their revenue per lawyer, pro bono commitment, associate satisfaction, racial and gender diversity, and the percentage of female equity partners.
In this video, partners, counsel, associates and alumnae discuss what it's like to practice at Paul, Weiss and the strength of the firm's commitment to gender diversity and inclusion at all levels. 
In this interview, Chair Brad Karp discusses with Matthew Winkler, editor-in-chief emeritus at Bloomberg News, the role that the firm's culture and strategic vision have played in the continued success of Paul, Weiss.
Paul, Weiss's 16th Annual Diversity Networking Event in June 2017 captured the spirit of our long and closely-held commitment to promoting diversity and equality in the legal profession. 
In this video, Paul, Weiss partners and associates describe the work and culture of the corporate department, and focus on the education and experience new associates can expect.