FEATURED NEWS

PUBLICATION
In an op-ed in The American Lawyer titled "The Legal Community Must Protect Workers and Small Businesses From Coronavirus Fallout," firm Chairman Brad Karp discusses the need for lawyers to help those who face financial devastation as a result of the COVID-19 pandemic.
INSIGHTS
The coronavirus (COVID-19) has spread to scores of countries and infected many thousands of people around the globe. Paul, Weiss is providing guidance for boards and management in navigating this crisis.
FIRM NEWS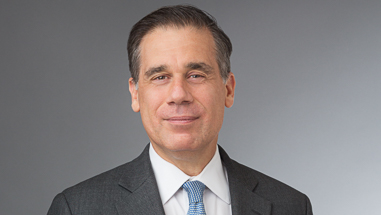 Robert Holo has joined the firm as a partner in the Tax Department, resident in the New York office.
AWARDS & RECOGNITION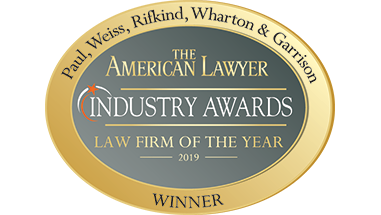 Paul, Weiss was recognized with The American Lawyer's most prestigious award, "Law Firm of the Year," at the American Lawyer Industry Awards Gala. Additionally, the firm was named "White Collar Litigation Department of the Year."
PRO BONO
A Paul, Weiss team recently secured the freedom of a pro bono client who was wrongfully convicted in 1996 of a murder he did not commit after 15 years fighting on his behalf.
PRO BONO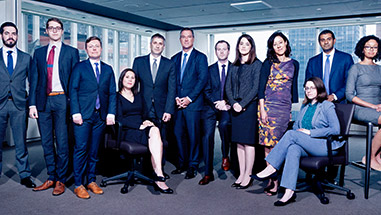 The New York Times highlighted Paul, Weiss's leadership in a court-ordered effort to find parents deported by the Trump Administration and to reunify families in an article on law firms' intensive pro bono immigration efforts.
FIRM NEWS
Loretta Lynch, the Attorney General of the United States from 2015 to 2017, has joined the firm as a partner in the Litigation Department.
Our Firm
In this video, partners, counsel, associates and alumnae discuss what it's like to practice at Paul, Weiss and the strength of the firm's commitment to gender diversity and inclusion at all levels. 

In this interview, Chair Brad Karp discusses with Matthew Winkler, editor-in-chief emeritus at Bloomberg News, the role that the firm's culture and strategic vision have played in the continued success of Paul, Weiss.

In this video, Paul, Weiss partners and associates describe the work and culture of the corporate department, and focus on the education and experience new associates can expect.
Diversity & Inclusion
The Paul, Weiss annual Diversity Networking Reception captures the spirit of our long and closely-held commitment to promoting diversity and equality in the legal profession.