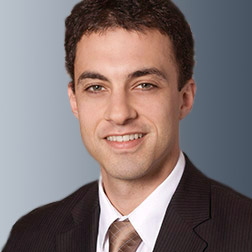 An associate in the Litigation Department, Jeremy Benjamin focuses his practice on general litigation matters. Jeremy has significant experience representing clients in federal and state antitrust litigations, arbitration, complex commercial disputes, class actions, internal and regulatory investigations, patent challenges, and trust and estate matters. In 2014, Jeremy was a member of a winning trial team representing Edwards Lifesciences. He has also provided significant assistance to Paul Weiss teams representing clients including Margaritaville Enterprises, LLC; Office of the Commissioner of Baseball/MLB Advanced Media L.P.; Microsoft Corporation; The Bank of New York Mellon; Memorial Sloan-Kettering Cancer Center; and WME IMG.
Jeremy maintains an active pro bono practice, working with individuals and public service organizations including the Correctional Association of New York, The Legal Aid Society, Make the Road New York, NAACP Legal Defense Fund, The Osborne Association, and Sanctuary for Families in areas including prisoners' rights, civil rights, parole, legislation, criminal appeals, housing, and asylum. In 2013 and in 2014, Jeremy was recognized for outstanding pro bono service by The Legal Aid Society, and in 2012, Jeremy was recognized, as part of a Paul, Weiss team, by STEPs to End Family Violence, a community organization that helps incarcerated women with histories of violence and abuse.
Jeremy is a former Chair of the New York State Bar Association Committee on Civil Rights. While in law school, Jeremy served as an associate editor of the Cardozo Law Review, was elected to the Order of the Coif and was a fellow in the Program for Holocaust and Human Rights Studies.