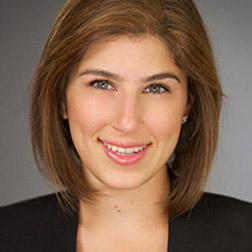 An associate in the Entertainment Department, Nicole Albano represents individuals and companies in all aspects of the entertainment industry, including film, television, publishing, digital platforms and live stage. Her practice covers a wide range of matters, such as advising financiers in connection with film and live stage investments, representing producers in the acquisition of underlying material for exploitation in a variety of media and related productions, representing rightsholders in the exploitation of their live stage and film rights, negotiating publishing arrangements for print and digital media, and advising talent in connection with motion picture and television transactions.
Nicole regularly advises companies in connection with mergers, acquisitions, joint ventures and financing transactions in the media, sports and entertainment space and also has significant experience in intellectual property transactions and counseling.
Nicole also has an active pro bono practice, advising clients regarding music, theater and general entertainment matters.
During her time at New York Law School, Nicole was an editor of the New York Law School Law Review and a John Marshall Harlan Scholar. Prior to becoming an attorney, Nicole worked in creative services at a leading premium television network.