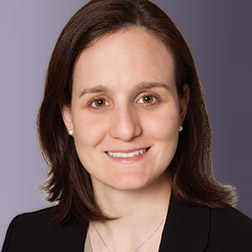 A partner in the Restructuring Department, Alice advises creditor and debtor clients in corporate reorganizations and bankruptcies, with a focus on postpetition financings, exit financings and specialized finance structures. Her recent company-side matters include advising Animal Supply Company, Preferred Sands, Expro Holdings, Performance Sports Group and Foresight Energy LP, and recent creditor-side experience includes advising stakeholders in Neiman Marcus Group, Inc., PetSmart, Inc., Exide Technologies and an informal committee of certain holders of secured and unsecured notes of Chassix Inc. and Chassix Holdings, Inc.
Awards and Recognitions
Chambers USA recognizes Alice for her "rare combination of bankruptcy and financing experience" in dealing with distressed companies in major chapter 11 cases, and cites clients who have called her "terrific" and "one of the best deal-side lawyers I have ever worked with." The Legal 500 writes that Alice's "ease in grasping complex structures make her the perfect lawyer to attack difficult restructuring issues" and she is also recognized by The Best Lawyers in America for her work in Bankruptcy and Creditor Debtor Rights/Insolvency and Reorganization Law. Alice was selected by Law360 to its list of Rising Stars for 2011, recognizing her as a legal talent under the age of 40, notably in connection with the successful bankruptcies of AbitibiBowater and CIT Group Inc.
Alice's matters are routinely recognized by industry publications and associations. The M&A Advisor selected the restructuring of BPS US Holdings and its debtor affiliates (the Performance Sports Group restructuring) as its "Restructuring of the Year ($500M-$1B)" in its 10th Annual International M&A Awards. The Turnaround Management Association (TMA) has honored Alice in two awards; 2018 "Transaction of the Year: Large Company" for her work on Performance Sports Group's chapter 11 case, as well as 2016 "Turnaround of the Year: Mega Company" for her work on behalf of Chassix Holdings Inc. debtholders. The Financial Times has recognized Alice's work on a number of restructurings in its annual report on "U.S. Innovative Lawyers," including "Highly Commending" her work on behalf of the Ad Hoc Committee of Dynegy Bondholders (2012) and CIT Group bondholders (2010), and "Commending" her work on the successful restructuring of AbitibiBowater (2011).
RESTRUCTURING EXPERIENCE
ENERGY
Preferred Sands, one of the leading producers of sand and resin coated proppants for North America's oil and gas industry, in a comprehensive out-of-court restructuring that involved the equitization or renegotiation of more than $1.4 billion of funded indebtedness, the issuance of new debt and the carve-out of certain of its in-basin production assets into a new entity, Signal Peak Silica, LLC;
NCSG Crane & Heavy Haul in the consensual recapitalization of its outstanding debt and equity, as implemented through a Canadian CBCA proceeding;
Expro Holdings, a leading provider of well flow management services to the oil and gas industry, in its pre-packaged chapter 11 case;
Foresight Energy LP in connection with an out-of-court restructuring of approximately $2 billion of secured and unsecured debt and a related refinancing of more than $1.3 billion of outstanding indebtedness;
Secured lenders of Boart Longyear Limited in connection with its Australian schemes of arrangement and related chapter 15 cases in the United States;
The ad hoc committee of noteholders of Dynegy in connection with the commencement and settlement of litigation arising from a prepetition transfer of assets, the company's bankruptcy cases and pre-arranged restructuring of $3.6 billion of unsecured claims; and
The agent for postpetition lenders to James River Coal Company.
CONSUMER AND RETAIL
Animal Supply Company, a national leader in pet food and supplies distribution, in an out-of-court restructuring transaction providing for the equitization of a significant portion of debt and the infusion of new capital;
An ad hoc committee of unsecured noteholders of Neiman Marcus, one of the world's largest omni-channel luxury fashion retailers, in connection with a recapitalization transaction involving the exchange of unsecured notes into a new series of third-lien notes and preferred equity in MyTheresa, a German luxury online retailer, and the issuance of new second lien notes;
An ad hoc committee of cross-holders of PetSmart's indebtedness;
Performance Sports Group, a leading developer and manufacturer of sports equipment and apparel with products marketed under the BAUER, MISSION, MAVERIK and EASTON brand names, among others, as U.S. counsel in connection with its complex U.S./Canadian bankruptcy cases, including the going concern sale of its business to a third party stalking horse bidder;
Centerbridge Partners, L.P. and Oaktree Capital Management, L.P. in connection with a term loan and stock purchase to recapitalize Billabong International Limited, a public corporation organized in Australia that specializes in the sale of apparel and accessories related to skateboarding and surfing; and
Silver Point Capital, as prepetition and postpetition agent for lenders to Hostess Brands, a leading manufacturer of bread and snack cakes, in connection with all aspects of its chapter 11 case.
SHIPPING
The ad hoc committee of noteholders of Horizon Lines, Inc. in connection with the company's out-of-court restructuring and structuring of post-restructuring financing; and
An ad hoc group of lenders, and later the successor administrative agent, under Eagle Bulk Shipping's $1.2 billion secured credit facility in connection with the company's restructuring and prepackaged chapter 11 case.
OTHER
An ad hoc group of holders of securities issued by Exide Technologies in connection with the recapitalization of the company, a global manufacturer of automotive and industrial batteries with operations in more than 80 countries. The recapitalization provided for the exchange or equitization of over $900 million of the company's outstanding first and second lien indebtedness, as well as the issuance of $150 million of new superpriority secured notes;
Lenders and bondholders of CIT Group in providing rescue financing, as well as structuring and consummating the largest prepackaged bankruptcy ever completed;
An informal committee of certain holders of secured and unsecured notes of Chassix Inc. and Chassix Holdings, Inc., as well as certain lenders under Chassix's postpetition and exit term loan credit facility, in connection with Chassix's restructuring through a pre-arranged chapter 11 case;
The unofficial committee of prepetition senior secured noteholders of Exide Technologies, in connection with the company's chapter 11 case and related postpetition financing;
AbitibiBowater Inc. (now known as Resolute Forest Products) in its complex, cross-border chapter 11 cases;
Subordinated bondholders of Tekni-Plex Inc. in connection with its successful out-of-court exchange offer and representing the company post-restructuring; and
The ad hoc committee of bondholders of The Rouse Companies with a pre-bankruptcy effort to consummate an out-of-court restructuring of $2.2 billion of bonds issued by The Rouse Companies/General Growth Properties.