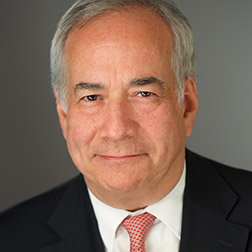 A Partner in the Paul, Weiss Litigation Department for over 25 years, Co-Chair of the firm's Litigation Department for six years and currently Chair of the firm's Partnership Committee, Allan Arffa is a highly experienced trial lawyer and general commercial litigator, with a long and successful track record, making him a "go-to" trial lawyer for high profile clients in their most significant litigations.

Allan handles securities, media and entertainment, bankruptcy, insurance, employment and other commercial matters in State and Federal courts, as well as in arbitration settings, throughout the country. Most recently, Allan achieved a string of major victories for Paramount Pictures, Aurora Bank and Bank of New York Mellon, the first two after trials where he served as lead trial counsel, and the last prior to trial.

Allan was recently inducted into the American College of Trial Lawyers, a prestigious honor that recognized his long history of excellence as a trial lawyer. In addition, he is consistently ranked in U.S. News & World Report as one of the "Best Lawyers" for both Commercial Litigation and Media Law.

Allan is also currently the Co-Chair of the Investment Funds Litigation practice group in the firm's Litigation Department.

EXPERIENCE
Allan has participated in numerous trials and hearings in State and Federal courts, bankruptcy courts and arbitration settings, in nearly all of which he has served as lead trial counsel.
Significant recent representations include:
Margaritaville of Bossier City, LLC in an arbitration proceeding, in which Allan served as lead trial counsel, resulting in the successful enforcement of a long term licensing agreement pursuant to which Margaritaville licensed its brand for use in connection with a hotel and casino in Bossier City, Louisiana. After a five-day hearing, the arbitration panel awarded Margaritaville $10 million in damages and issued an award declaring that the Bossier City licensee was obligated to continue using the Margaritaville brand;
Walter Energy, Inc., in several hearings in the Bankruptcy Court for the Northern District of Alabama, where he served as lead trial counsel for the debtor. The hearings resulted in a successful sale of Walter Energy's assets to its secured lenders over the objections of a variety of constituents;
Citibank as the plaintiff in an action in the U.S. District Court for the Southern District of New York, relating to foreign exchange trading. Allan obtained full judgment on the pleadings in Citibank's favor prior to trial;
Paramount Pictures Corporation in a trial in the U.S. District Court for the Southern District of New York. Paramount had been sued by four investors in a slate of 25 films. Allan served as co-lead trial counsel, cross-examining the key plaintiff investors. The trial resulted in a judgment dismissing all claims against Paramount, including claims of federal securities fraud, common law fraud and unjust enrichment;
Aurora Bank in a trial in Colorado State Court, Denver County, in defense of a claim brought by Allonhill, a mortgage due diligence firm. Allonhill was hired by Aurora, a mortgage servicer, to conduct a foreclosure review ordered by federal regulators. Aurora had terminated Allonhill after undisclosed conflicts of interest came to light. After a trial where Allan served as lead trial counsel for Aurora, not only were all of Allonhill's claims against Aurora denied, but Aurora's counterclaims were granted, resulting in a judgment in Aurora's favor of over $28 million;
Bank of New York Mellon as an indenture trustee in a matter brought in New York State Court by noteholders seeking approximately $1 billion in damages. The action was ultimately dismissed in full in the client's favor prior to trial;
Citigroup Inc. affiliates in both a federal court case and a related FINRA arbitration, both involving complex credit default swap issues. Allan obtained a multi-million dollar judgement for one affiliate in the federal action, and a defense decision, after FINRA arbitration hearings, in which Allan served as lead trial counsel, dismissing all claims against a second affiliate;
Bear Stearns in a FINRA arbitration brought by a hedge fund alleging fraud in connection with the structuring of collateralized debt obligations. Allan served as lead trial counsel;
A prominent fund manager in an arbitration, in which Allan served as lead trial counsel, regarding redemption rights in a hedge fund;
Nielsen Media, Inc. in an arbitration proceeding, in which Allan served as lead trial counsel, resulting in the successful termination of the adversary's license agreement with a Nielsen affiliate;
A major financial institution in a case tried in New York Supreme Court involving credit derivatives, resulting in a complete defense victory for the client. Allan served as lead trial counsel;
Private equity professionals in an international (ICDR) arbitration against a private equity firm based in the Middle East raising a variety of employment-related issues; and
Time Warner Cable in a New York State Court dispute brought by the City Council of New York against the State Public Service Commission, the Mayor of the City of New York and Time Warner Cable, challenging the approval of the client's New York City cable franchises. He successfully defended the client's franchise awards before all three levels of the New York State court system, including the New York Court of Appeals.
Allan has served as lead litigation counsel in numerous other matters in bankruptcy courts around the country, including contested matters and adversary proceedings. He has conducted hearings in bankruptcy courts on various issues, including the appointment of trustees, estimation and other issues in asbestos-related bankruptcy cases, and contract acceptance/rejection issues, along with arguing numerous motions and other applications.
In addition, Allan has handled numerous securities matters and spoken on securities law issues. He has also conducted a variety of internal investigations for clients in matters involving potential securities law and other issues. He regularly represents clients in partnership, shareholder and other investment-related disputes, as well as disputes involving accounting and employment issues.
Allan has also handled a broad variety of telecommunications matters, from disputes over alleged problems with undersea telecommunications cables to litigating and negotiating cable television franchise matters. He has also handled a number of significant litigation and counseling matters on behalf of clients in the financial data, information and entertainment industries.
In the pro bono area, Allan has been a prominent advocate for women's reproductive rights, including recently authoring an amicus brief submitted to the Supreme Court, in the Whole Women's Health case, on behalf of over 100 women in the legal profession who came forward to tell the stories of their abortions and the importance of those abortions on their careers and their lives.
Allan served as an Articles Editor of the Harvard Law Review.