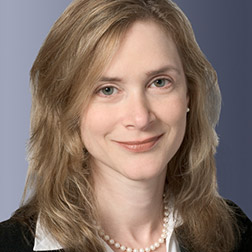 As counsel in the Litigation Department, Amy L. Barton has a broad range of civil litigation experience, including in the areas of antitrust, securities, complex contract disputes and regulatory matters. She has managed the pre-trial phases of multi-year complex litigations in state and federal courts throughout the country.

EXPERIENCE
Significant representations include:
Citigroup in several matters, including regulatory investigations by the SEC and the New York Attorney General and civil litigation brought by an alleged whistleblower;
PJT Partners, Inc. in a putative securities class action;
Pace plc in a Justice Department Second Request investigation of its $2.1 billion acquisition by ARRIS Group Inc., where the Justice Department closed its investigation without imposing any conditions;
Prudential Life Insurance Company of America in a litigation challenging the prior settlement of hundreds of employment discrimination claims; 
a private equity fund and their principals in regulatory and related civil matters;
AIG in class action and derivative lawsuits concerning allegations of accounting fraud and bid rigging, including obtaining dismissal of Marsh's claim that AIG aided and abetted a bid rigging scheme on in pari delicto grounds. In re Marsh & McLennan Cos., Inc. Deriv. Litig., C.A. No. 753-N (VCS) (Del. Ch. June 17, 2009), aff'd, en banc, Teachers Retirement Sys. of Louisiana v. General Re. Corp., 11 A.3d 228 (Table, 2010 WL 5394004 (Del. Dec. 29, 2010); and
Dun & Bradstreet, ACNielsen and IMS Inc. in a federal antitrust action brought by a large competitor, obtaining dismissal of the case on a pre-trial motion. Information Resources, Inc. v. Dun & Bradstreet Corp., 359 F. Supp. 2d 307 (S.D.N.Y. 2004).
Ms. Barton served as a managing editor of the Tulane Law Review.