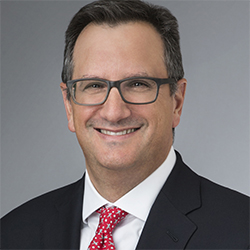 A partner in the Litigation Department and co-chair of the M&A Litigation Practice Group, Andrew G. Gordon has extensive experience litigating and trying cases on behalf of plaintiffs and defendants in complex civil litigation matters. Andrew's litigation practice is concentrated on M&A litigation, including handling "material adverse change" litigations and shareholder class actions asserting breach of fiduciary duty and disclosure-related claims in the Delaware Court of Chancery, as well as in federal and state courts nationwide. Andrew also handles securities, intellectual property, bankruptcy, employment and other commercial disputes. Clients have described Andrew as an "exceptional litigator, communicator and counselor who delivers practical guidance in navigating complex scenarios," and as "an incredible cross-examiner" who has "a keen commercial sense and understands clients' businesses."
AWARDS & RECOGNITIONS
Andrew has received numerous industry awards throughout his career and has earned national recognition as a go-to lawyer for "material adverse event" (MAE) disputes and challenging investor disputes in recent years. In 2019, Andrew was named an American Lawyer "Litigator of the Week" twice for both his trial win in Delaware on behalf of Channel Medsystems in Channel's litigation to enforce a $275 million merger agreement and for his win on summary judgment on behalf of Citco Group less than two weeks before trial in a $200 million public pension fund investor suit in Louisiana. Andrew is also consistently ranked as a leading commercial litigator by various legal directories. He is recognized by Chambers USA in Litigation: General Commercial (NY), listed as a "Leading Lawyer" by The Legal 500 US in M&A Litigation: Defense, recommended by The Legal 500 US in General Commercial Disputes and Intellectual Property: Copyright, and recognized by The Best Lawyers in America in Copyright Law.
EXPERIENCE
Andrew is an experienced trial lawyer, having conducted or participated in numerous trials in federal and state courts, bankruptcy courts and arbitration matters. In recent years, Andrew has developed a substantial practice litigating M&A-related disputes, particularly in the Delaware Court of Chancery where he has achieved several significant and precedent-setting results. In addition, Andrew continues to advise private equity funds and their portfolio companies, financial services providers, and major public companies and their boards in a variety of high-stakes commercial disputes and intellectual property challenges.
Recent experience in M&A-related disputes include:
representing Fresenius SE & Co., a German healthcare company, in a landmark ruling, affirmed by the Delaware Supreme Court, that Fresenius was justified in terminating a $4.8 billion merger agreement with Akorn Pharmaceuticals due to Akorn's post-signing decline and Akorn's blatant breaches of FDA data integrity requirements, both constituting Material Adverse Events (MAE) under Delaware law. The decision was the first to find an MAE justified based on post-signing financial decline and other factors;
representing medical device start-up Channel Medsystems, Inc. in a trial victory in Delaware in connection with a "material adverse change" litigation with Boston Scientific Corporation in which Boston Scientific unsuccessfully sought to terminate its $250 million acquisition of the company;
representing 1-800-Flowers.com in defense of an action brought in the Delaware Court of Chancery by Bed Bath & Beyond regarding
1-800-Flowers' termination of its agreement to purchase PersonalizationMall.com;
representing Alere Inc., a medical device and point-of-care testing company, in its "material adverse change" litigation with Abbott Laboratories in which we achieved a settlement whereby Abbott agreed to close the $5.3 billion acquisition;
representing Virtu Financial in litigation arising out of Virtu Financial's $1.4 billion acquisition of Knight Capital Group, including the successful resolution of a preliminary injunction challenging the transaction under Section 203 of the Delaware Corporation Law;
securing the dismissal of claims against Dominion Diamond after a putative class of shareholders sued to enjoin the acquisition of Dominion Diamond by The Washington Companies, thereby allowing the $1.2 billion transaction to close on schedule;
securing the dismissal of claims filed against Silver Bay Realty Trust Corp. and its board of directors for breach of fiduciary duty and alleged proxy statement misrepresentations and omissions in connection with Silver Bay's $1.4 billion acquisition by Tricon Capital Group; and
representing several public and private company defendants—most recently, for example, ADMA Biologics, Earthlink, Encana Corp., Evercore Partners, General Atlantic, Hunt Companies, the Karfunkel-Zyskind Family, Kate Spade, Lazard, KKR, Mitel Networks, National General Holdings Corp., Plygem Industries, Universal American Corporation, and Virtu Financial – in securities class actions, take-over litigation, and derivative-styled lawsuits brought around the country.
Additional commercial litigation experience includes:
representing blockchain powered "smart securities" startup Symbiont.io in a trial victory in Delaware Court of Chancery in connection with its lawsuit against Ipreo Holdings and IHS Markit which arose out of the defendants' bad-faith efforts to undermine a joint venture between Symbiont and Ipreo intended to leverage blockchain technology in the syndicated loan market. The court issued a verdict awarding more than $140 million to the joint venture entity—one of the largest damages awards in recent years in Court of Chancery;
prevailing on summary judgment on all counts, just days before trial, on behalf of The Citco Group, the world's leading hedge fund administrator, in a $220 million suit brought by Louisiana public pension funds stemming from their failed investment in a hedge fund managed by Alphonse "Buddy" Fletcher Jr.;
obtaining a favorable defense verdict for Investment Technology Group, Inc. in a FINRA arbitration brought by a former employee of ITG, who claimed that the company had disparaged him in violation of his separation agreement with ITG;
litigation of significant trademark, licensing and intellectual property disputes for clients such as Capri Holdings, Duracell, MTV Networks, Michael Kors, Liz Claiborne, Warner Music Group, Versace, Voice Age Corporation and Ralph Lauren Corporation;
representing The Citco Group of Companies in federal, state and bankruptcy-related litigations arising out of the collapse of several hedge funds, including Fairfield Sentry;
achieving a significant victory on behalf of Santa Barbara Hospitality in an arbitration brought against Hyatt; and
representing several financial, hedge fund and private equity clients in a variety of regulatory, criminal, bankruptcy, employment and civil litigation-related matters, including successfully defending a major private equity fund client in an arbitration in which plaintiff alleged claims of fraud and breach of contract and sought over $100 million in damages.
Andrew is also part of a trial team that successfully represented, pro bono, thousands of individuals with serious mental illnesses in a landmark lawsuit brought against the Governor of the State of New York and other New York officials.
Andrew served as associate editor of the Fordham Law Review and was elected to the Order of the Coif.