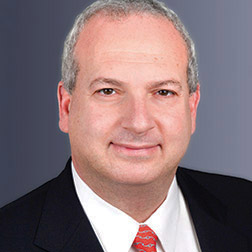 A partner in the Bankruptcy and Corporate Reorganization Department, Andy primarily practices in the areas of corporate restructuring and bankruptcy with additional focus in representing lenders in providing financing to highly leveraged companies.
EXPERIENCE
Andy has broad experience on both the debtor and creditor side of many recent major bankruptcies and restructurings.
His official and unofficial bank lender and bondholder committee experience includes:
the Ad Hoc Committee of Bondholders of General Motors Co. in connection with GM's chapter 11 case;
the Bondholders of CIT Group Inc. in the largest prepackaged bankruptcy ever completed;
the Ad Hoc Committee of Bondholders of GMAC in a $28.5 billion debt exchange offer, one of the largest exchange offers ever consummated;
the Ad Hoc Group of Puerto Rico general obligation bondholders in restructuring the $18 billion of debt issued or guaranteed by the Commonwealth of Puerto Rico;
an Ad Hoc Group of Secured Lenders in a cross-border restructuring of Ceva Group Plc through a two part out-of-court exchange;
the Official Committee of Unsecured Creditors of Quicksilver Resources Inc., a Texas-based oil and gas exploration and production company with over $2 billion in indebtedness;
an Ad Hoc Group of Senior Secured Creditors of Oro Negro and its subsidiaries, in connection with a restructuring of over $900 million of secured debt obligations issued pursuant to Norwegian law;
an Ad Hoc Group of Senior Unsecured Creditors of Paragon Offshore plc in connection with a restructuring of over $2 billion of secured and unsecured debt obligations;
the Informal Committee of Holders of Second and Third Lien Secured Notes of Altegrity, Inc., as well as certain lenders of post-petition financing, in connection with Altegrity's restructuring through a pre-arranged chapter 11 case;
the Ad Hoc Committee of Lenders of Eitzen Chemical in connection with a restructuring of over $1 billion of debt obligations;
an Ad Hoc Group of Lenders, and later the successor administrative agent, under Eagle Bulk Shipping's $1.2 billion secured credit facility in connection with the company's restructuring and prepackaged chapter 11 case;
the Steering Committee of Senior Secured Noteholders of GMX Resources Inc. in the company's chapter 11 case;
an Ad Hoc Group of Bank Lenders in extensive litigation with W.R. Grace & Co. regarding the lenders' entitlement to postpetition interest at the default rate under their credit agreement; including briefing and oral argument before the United States Court of Appeals for the Third Circuit;
the Bondholders of Nortek, Inc. in connection with the company's prepackaged chapter 11 reorganization, which cut the total debt by roughly $1.3 billion;
the Unofficial Committee of Second-Lien Debtholders of Calpine Corporation in the successful negotiation of a full payout in cash with postpetition interest and a payment premium in the company's chapter 11 case;
the Ad Hoc Committee of Dynegy Inc. in connection with the company's bankruptcy case and negotiation of a pre-arranged restructuring of $3.6 billion of unsecured claims;
the Ad Hoc Committee of Bondholders of Quebecor Inc. in the company's cross-border U.S. and Canadian bankruptcy filings;
the Ad Hoc Committee of Senior Secured Bondholders of Trico Marine Group in connection with an out-of-court exchange and raising a new working capital facility;
the Ad Hoc Committee of Bondholders of The Rouse Companies with a pre-bankruptcy effort to achieve an out-of-court restructuring of The Rouse Companies/General Growth Properties' $2.2 billion of bonds;
the Official Unsecured Creditors' Committee of Armstrong Industries Inc. in an important victory before the Third Circuit Court of Appeals in connection with Armstrong's reorganization plan; and
the Bondholders of Tyco International Ltd. in their suit against Tyco over the spin-off of its Electronics and Healthcare divisions.
On the debtor side, he served as debtor's counsel to:
Penson Worldwide, Inc. in its restructuring efforts with bondholders and its subsequent liquidating chapter 11 case in Delaware, which included a sale of Penson's operating subsidiary as a going-concern to a Canadian financial services cooperative;
SpectraSite Communications, Inc. with its $2 billion chapter 11 restructuring;
Top-Flite Golf Company with its filing for bankruptcy and selling of its assets to Callaway Golf Co. for approximately $170 million; and
Cone Mills Corporation with its chapter 11 sale.
He also represented Centerbridge Partners, L.P. and Oaktree Capital Management, L.P. in connection with a term loan and stock purchase to recapitalize Billabong International Limited.
Andy was named to The American Lawyer's list of 2010 "Dealmakers of the Year" for his work on behalf of the bondholders of CIT Group Inc. He has also been listed in The Best Lawyers in America for bankruptcy and creditor and debtor rights/insolvency and reorganization law and bankruptcy litigation since 2011, where he is described as "an outstanding attorney who is THE 'go-to' restructuring professional." Chambers USA describes Andy as "the best tactician and negotiator on the street; if you want a consensual deal done, he is the best" and "he, more than anyone, is a one phone call hire" for his bankruptcy/restructuring work. Chambers Global praises Andy for the "very impressive" deal-making ability he brings to a case. The Legal 500 recognizes Andy as a "Leading Lawyer" in corporate restructuring and notes that he is "a fabulous lawyer with a deservedly excellent reputation" and he is "the person you call when you have a hairy situation and want to avoid court." In 2013, Andy was named a National Litigation Star for Bankruptcy by Benchmark Litigation and in 2015, he was again named a "Leading Lawyer" in restructuring and insolvency by the IFLR1000.
The Turnaround Management Association (TMA) recently selected Chassix Holdings Inc. as its 2016 Turnaround of the Year "Mega Company" winner and, in that connection, recognized Andrew Rosenberg and Alice Belisle Eaton for their work on behalf of certain Chassix debtholders. Andy was also recognized by the TMA for his work representing certain debtholders in transactions involving DeepOcean Group (f/k/a Trico Marine Group), the 2012 Turnaround of the Year "International Company" winner. Additionally, the Financial Times has "Highly Commended" Andy's work on a number of restructurings in its annual report on "U.S. Innovative Lawyers," including his work on behalf of certain CEVA Group lenders (2014), the Ad Hoc Committee of Dynegy Bondholders (2012) and CIT Group bondholders (2010).