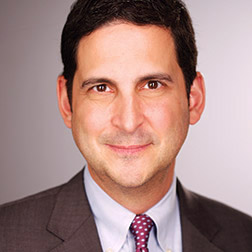 As counsel in the Real Estate Department, Barry Langman has focused his practice on complex real estate transactions including the leasing, financing, acquisition and disposition of property in New York City and elsewhere. He regularly represents property owners, space users, developers, not-for-profit organizations and governmental agencies in a range of matters related to real estate.
EXPERIENCE
Mr. Langman's recent representations include:
The New York City Economic Development Corporation in negotiations for 99-year ground leases to Cornell University (Roosevelt Island) and New York University (downtown Brooklyn) as part of the City's Applied Sciences initiative;
Northwell Health (formerly North Shore - LIJ Health System) in various acquisitions, leases and other real estate transactions in New York City and on Long Island;
New York Wheel in the development of a 630-feet high observation wheel to overlook New York Harbor and the New York City skyline on land leased from the City of New York on Staten Island;
Time Warner and its affiliates in various subleasing and facilities initiatives;
Memorial Sloan-Kettering Cancer Center in several space leases in Manhattan, including in the historic Chrysler Building and at 650 Madison Avenue;
Not-for-profit corporations in structuring and implementing leasehold condominium transactions, and obtaining related real estate tax exemptions;
Numerous employers in corporate retention transactions with the City of New York involving real estate, sales tax and energy benefits;
Lincoln Center for the Performing Arts in a 69-year lease for a visitor's center and performance space at the David Rubinstein Atrium (formerly known as the Harmony Atrium);
Major League Baseball in transactions involving its leased premises at 245 Park Avenue and across the country;
Ground lessors in long-term leases to developers for new projects;
1199/SEIU United Healthcare Workers East with respect to various real estate projects in Manhattan;
The Oneida Indian Nation in numerous leases of retail and restaurant space at the Turning Stone Casino Resort in Upstate New York;
Ceruzzi Properties in retail development transactions in the outer boroughs of New York City;
The Blue School in connection with the purchase and financing of new locations in the Financial District;
United American Land in the phased sale of 11 parcels of downtown Brooklyn property to AvalonBay Communities;
Family-run real estate businesses in the reorganization (or, in some cases, division) of relatives' ownership interests;
Corporate clients in the real estate aspects of merger and acquisition transactions; and
Landlords and tenants in office, commercial and retail leases of all sizes, from under 5,000 square feet to over 500,000 square feet.