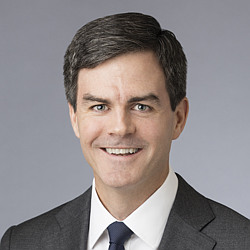 A partner in the Corporate Department, Brian C. Lavin is co-head of the firm's Infrastructure Practice and a member of the Mergers & Acquisitions Group and Private Equity Group. He regularly advises in the negotiation and structuring of mergers and acquisitions, dispositions, joint ventures and leveraged buyouts on behalf of a diverse range of clients, including public and private companies, private equity funds, financial institutions and other entities.
EXPERIENCE
Brian's recent private equity transactions include representing:
Oak Hill Capital Partners in numerous transactions including:

its agreement to invest in and partner with U.S. Oral Surgery Management
its strategic partnership with Ontario & Trumansburg Telephone Companies
in partnership with Trinity Consultants' management and employees, in its acquisition of Trinity Consultants from Levine Leichtman
its acquisition of a controlling stake in Technimark Holdings
its investment and partnership with American Veterinary Group
in the merger of The Hillman Group, a portfolio company of Oak Hill Capital, and Landcadia Holdings III, a special purpose acquisition company
its partnership with NetSpeed
its investment in Race Communications
its take-private acquisition of Otelco Inc.
its investment in Calero Software to finance its merger with MDSL
its minority equity sale to Stonyrock Partners
its acquisition of an equity stake in Mercer Advisors from Genstar Capital and Lovell Minnick Partners
its acquisition of Berlin Packaging from Investcorp
its acquisition of FirstLight Fiber from Riverside Partners
its investment in VetCor Group
its acquisition of Safe Fleet Holdings from The Sterling Group
its sale of Wave Broadband
its acquisition of Checkers Drive-In Restaurants from Sentinel Capital Partners
its acquisition and subsequent sale of ViaWest, Inc.
its numerous transactions involving its portfolio companies including, AccentCare, Berlin Packaging, FirstLight, Firth Rixson and Imagine! Print Solutions

General Atlantic in multiple transactions, including:

its investment in Buff City Soap
its growth investment in SPINS, alongside Warburg Pincus and Georgian
its investment in Certinia
its investment in PT Solutions
its investment in Mobileye

Brookfield Partners in numerous transactions, including:

its acquisition of a 50% stake of Clayton, Dubilier & Rice's ownership interest in BrandSafway
a restructuring of its portfolio company, Altera Infrastructure
a potential take-private

Cast & Crew Entertainment Services, a portfolio company of Silver Lake Partners, in its sale to EQT
The Chatterjee Group and Rhône Capital in their joint acquisition of Lummus Technology, a division of McDermott International, in connection with the company's chapter 11 case
Clearlake Capital Group in a consortium deal to acquire Chelsea Football Club
Crestview Partners in its multiple investments including:

with other institutional investors in Cumulus's Media Inc. as part of Cumulus' acquisition of Citadel Broadcasting Corporation
Camping World/Good Sam Enterprises

Helios Fairfax Partners Corporation, alongside other investors including the National Basketball Association, in the formation of NBA Africa, a new entity that will conduct the league's business in Africa, including the Basketball Africa League
MetroNet in its co-investment by KKR and Oak Hill Capital
Shred-it International, a portfolio company of Birch Hill Equity Partners, in its merger with Cintas Corporation's document destruction business
WaveDivision Capital and Searchlight Capital Partners in their acquisition of Frontier Communications' Washington, Oregon, Idaho and Montana operations
Brian's recent public company transactions include representing:
ARIAD Pharmaceuticals in its acquisition by Takeda Pharmaceutical Company Limited
Cigna in its acquisition of Brighter Inc.
Dainippon Sumitomo Pharma Co. in its acquisition of Sepracor
The Discovery Channel in its 50/50 joint venture with Hasbro to launch The Hub
Emdeon in its sale to Blackstone
The special committee of the board of directors of Pattern Energy Group Inc. in its approximately all-cash acquisition by Canada Pension Plan Investment Board (CPPIB)
Restaurant Brands International in its acquisition of Popeyes Louisiana Kitchen
Time Warner Cable in its merger with Charter Communications
Universal American Corp. in its acquisition of APS Healthcare
Brian's recent private company transactions include representing:
Boat Rocker Media in its acquisition of Matador Content
DS Services Holdings in its sale to Cott Corporation from Crestview Partners
The Getty family in its buyout of The Carlyle Group's interests in Getty Images Inc.
Hemisphere Media Group in its acquisition of the remaining 75% stake in Pantaya from Lionsgate
Major League Baseball in its sale of the Los Angeles Dodgers to Guggenheim Baseball Management
MGM in its sale to Amazon
ViaWest in its sale to Shaw Communications from Oak Hill Capital, along with other shareholders, and the subsequent sale of ViaWest by Shaw Communications to Peak10
Vice Media in connection with various private placements and its joint venture with A&E Networks to launch VICELAND
WME IMG (now Endeavor) in:

connection with the merger of Learfield with IMG College, a subsidiary of Endeavor
its strategic partnership with, and sale of a minority interest to, Silver Lake Partners
the formation of a new China-based subsidiary
its investments in WME IMG by Canada Pension Plan Investment Board, GIC and SoftBank Group
its acquisitions of Ultimate Fighting Championship, Fusion Marketing and IMG LIVE
Brian is recognized by The Legal 500 as a key lawyer in private equity buyouts and as one of the "500 Leading Dealmakers in America" by Lawdragon.