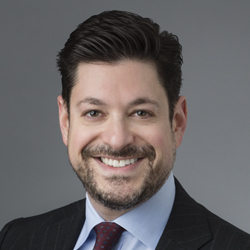 A partner in the Tax Department, Brian Krause advises clients on a broad range of U.S. and international tax matters, with a particular focus on cross-border transactions. He advises on the tax aspects of mergers and acquisitions, joint ventures, post-acquisition integration transactions, internal restructurings and the establishment of private equity fund and hedge fund structures. Brian also provides tax advice in connection with the restructurings of financially distressed corporations and partnerships, both in and out of bankruptcy court, and in matters involving master limited partnerships.
EXPERIENCE
Brian's representative M&A clients have included:
Clearlake Capital Group in a consortium deal to acquire Chelsea Football Club
Qualcomm Incorporated, alongside SSW Partners, in its $4.5 billion topping bid for Veoneer, Inc. As part of the transaction, Veoneer terminated its prior agreement with Magna International
Aptiv in its $4.3 billion acquisition of Wind River from TPG Capital.
General Electric in its reorganization through spin-offs into separate publicly traded aviation, healthcare and energy companies
Oak Hill Capital in its agreement to invest in and partner with U.S. Oral Surgery Management
Advance in the $150 billion Reverse Morris Trust transaction that will combine AT&T Inc.'s WarnerMedia business with Discovery, Inc.
Algoma Steel Inc. in its combination with Legato Merger Corp
MGM in its $8.45 billion sale to Amazon
The special committee of the board of directors of QAD Inc. in its $2 billion sale to Thoma Bravo
ZeniMax Media Inc. in its $7.5 billion acquisition by Microsoft Corporation
Dassault Systèmes SE in its acquisition of Medidata Solutions, Inc. in an all-cash transaction at a price of $92.25 per share of Medidata, for an enterprise value of $5.8 billion
The Hershey Company in its $1.6 billion acquisition of Amplify Snack Brands, Inc.
Pfizer Inc. in:

the tax aspects of its consumer health care joint venture with GlaxoSmithKline
its terminated $160 billion combination with Allergan plc
its $11.9 billion divestiture of its infant nutrition business to Nestlé S.A. and its integration of Wyeth

ExxonMobil in a joint venture with Saudi Basic Industries Corp. for their Gulf Coast Growth Ventures project
Worldpay in a $43 billion merger with FIS
Vantiv in its $12 billion acquisition of Worldpay
Noble Energy in its $3.2 billion acquisition of Clayton Williams Energy, Inc.
NorthStar Asset Management Group Inc. in its merger of equals with Colony Capital, Inc. and NorthStar Realty Finance Corp.
Frontier Communications Corp. in its $10.54 billion acquisition of the wireline operations from Verizon Communications Corp. and its $2 billion acquisition of the Connecticut wireline business of AT&T Inc.
Tumi Holdings, Inc. in its $1.8 billion acquisition by Samsonite International S.A.
Centene Corp. in its acquisition of Health Net, Inc.
ONEOK, Inc. in:

the spin-off of its natural gas local distribution company
its acquisition of the publicly traded common units of ONEOK Partners, L.P.

Marubeni Corp. in its $2.7 billion acquisition of Gavilon Group LLC
Goldman Sachs in the sale of its 49% stake in the YES Network to News Corp.
Brian's major representative restructuring matters have included:
An ad hoc group of unsecured noteholders of Service King, a national operator of auto body collision repair facilities, in connection with the Company's recapitalization
Atlas Resource Partners, L.P. in its prepackaged plan of bankruptcy, one of the first chapter 11 reorganizations of a master limited partnership
Triangle USA Petroleum Corp. in its chapter 11 reorganization
Millennium Health LLC in its prepackaged chapter 11 reorganization whereby Millennium converted in excess of $1.1 billion first lien debt to equity
CIT Group Inc. in its prepackaged plan of bankruptcy
Brian also has experience advising clients in their initial public offerings, including:
Fortress Transportation and Infrastructure Investors LLC in its $340 million initial public offering of common shares representing limited liability company interests
Och-Ziff Capital Management Group LLC (n/k/a Sculptor Capital Management) in connection with its $1.2 billion IPO
Brian is highly ranked in tax by Chambers USA, with sources describing him as "extremely hard-working" and noting that "he has a very good head for all the technical aspects." In 2020, he was named a "Rising Star" by Law360 and was among Euromoney's "Rising Stars Americas."
Brian has written extensively about IRS and tax-related issues for leading legal publications. He is co-chair of the Committee on Bankruptcy and Losses and a member of the Executive Committee of the Tax Section of the New York State Bar Association, a member of the Private Investment Fund Tax Forum and a Fellow of the American Bar Foundation.
Brian has an active pro bono practice; he has been honored several times with the Legal Aid Society's Pro Bono Publico award for his work with LAS's Low Income Tax Clinic.