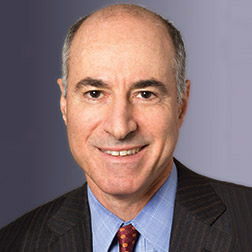 Bruce Gutenplan is a retired partner who has practiced Corporate law at Paul, Weiss for more than 35 years. He has extensive experience advising clients and boards of directors on corporate governance, fiduciary duties, mergers and acquisitions, divestitures, joint ventures, public and private investments and other significant corporate matters.
EXPERIENCE
Bruce represents clients in domestic and cross-border transactions ranging from middle-market buy-outs and recapitalizations to larger strategic acquisitions and joint ventures. Bruce also represents private investment funds in connection with their growth capital and other private equity investments.
Bruce's corporate representations in M&A transactions include:
American Tower Corporation in several acquisitions, including its $1.85 billion acquisition of Eaton Towers Holdings Limited, its $523 million acquisition of joint venture stakes in Ghana and Uganda from MTN Group Limited and its €607 million acquisition, together with its joint venture partner Dutch pension fund manager PGGM, of FPS Towers in France;
Lendlease Group in several transactions, including the sale of its U.S. telecommunications platform to funds managed by affiliates of Apollo Global Management, Inc., the establishment of a $5 billion infrastructure joint venture with SoftBank Group to fund the acquisition and strategic restructuring of approximately 8,000 of Sprint's rooftop telecom sites, and its acquisition of Parallel Infrastructure and its portfolio of telecommunications towers;
Zenium Holdings Limited, a leading hyperscale data center provider in Europe, in the $442 million sale of its data center business in the United Kingdom and Germany to CyrusOne Inc., and in the sale of its data center business in Istanbul, Turkey to an affiliate of Equinix, Inc.;
John Hancock, a division of Manulife Financial Corporation, a leading international financial services group, in several transactions, including its 30% equity investment in ExteNet Systems, Inc., its acquisition of a 35% equity stake in Phoenix Tower International from funds managed by Blackstone Tactical Opportunities, and its acquisition of a minority equity stake in Diamond Communications Holdings LLC;
TAP Advisors as financial advisor to Boingo Wireless, Inc., a California-based distributed antenna system and Wi-Fi provider, in its sale to an affiliate of Digital Colony Management, LLC;
NorthStar Realty Finance Corp. in its $4.2 billion acquisition of Griffin-American Healthcare REIT II, Inc., which was named M&A Advisor's "Healthcare and Life Sciences Deal of the Year Award (Over $500 million)" in 2015;
ExteNet Systems Investors in the $1 billion recapitalization of ExteNet by Digital Bridge Holdings and Stonepeak Infrastructure Partners;
NorthStar Asset Management Group Inc. in its joint venture with American Healthcare Investors LLC;
TowerCo in several M&A transactions, including its $670 million acquisition of telecommunications towers from Sprint Nextel, and in the sale of four generations of its business, including the $1.48 billion sale of TowerCo II to SBA Communications;
SpectraSite Communications in several transactions, including its $11.3 billion merger with American Tower, its $2 billion chapter 11 bankruptcy restructuring, its $1 billion acquisition of 3,025 telecommunications towers from SBC Communications and its acquisition of 2,000 telecommunications towers from Nextel Communications;
The Special Committee of the Board of Trustees of First Real Estate Investment Trust of New Jersey (FREIT) in its proposed $266.5 million sale of seven apartment properties to an affiliate of Kushner Companies, and FREIT's adoption of a plan of voluntary liquidation;
Cell C (Pty) Limited in a $430 million sale transaction in South Africa; and
Millicom International Cellular in sale transactions in Colombia, Ghana, Tanzania and the Democratic Republic of the Congo.
Bruce's representation of private equity and hedge fund clients include Soros Fund Management, Newlight Partners, NRDC Equity Partners and Newport Global Advisors. Specific transactions include:
Soros Fund Management in connection with its private equity investments in Atlantica Hotels International, Digicel Asian Holdings Pte. Limited, Extenet Systems, Helios Towers Africa, Hyperoptic, Quattro Telecomunicações (Brazil), TowerCo and Zenium Holdings Limited;
Newlight Partners in its investments in Honest Networks, LLC and Sail Internet, Inc., and its sale of a majority stake in the UK's largest residential gigabit broadband provider, Hyperoptic Ltd., to KKR;
NRDC Equity Partners in its acquisition of the iconic Canadian retailer Hudson's Bay Company and HBC's consolidation with Lord & Taylor and Fortunoff; and
Newport Global Advisors in connection with its investments in Amtrol, Merisant, True Temper Sports and Uno Restaurant Holdings.
Since 2014, Bruce has been recognized by The Legal 500 for his work in media, technology and telecoms. In 2019, Bruce was named one of the "Top 10 Comms M&A Legal Advisors" in the country by TMT Finance.
In 1990, Bruce relocated to London to launch the firm's office there. For two years, he handled a variety of cross-border transactions for U.S. and European clients before returning to practice in New York.
At Columbia Law School, Bruce served as an editor of the Columbia Journal of Law and Social Problems and was a Harlan Fiske Stone Scholar.