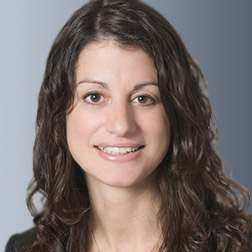 As a counsel in the Litigation Department, Caitlin focuses her practice on general litigation matters. She has managed the defense of numerous lawsuits involving Securities Act claims, and has participated in responding to inquiries from various regulatory agencies, including the DOJ, SEC, and state attorneys general.
EXPERIENCE
Caitlin's experience includes the following:
Alere, a medical device and point-of-care testing company, in a closely watched multi-billion dollar mergers and acquisitions litigation.
Teladoc Health in:

the dismissal of a class action and derivative claims filed by shareholders alleging that the company misstated its policies governing workplace conduct following a #MeToo scandal, which led to the resignation of a senior executive;
a securities class action in New York state court alleging that the registration statement and prospectus issued in connection with Teladoc's merger with Livongo Health contained material misstatements and omissions about Teladoc's potential membership growth after the merger; and
a securities class action in New York federal court alleging that Teladoc made materially false and misleading statements concerning the integration process following its merger with Livongo Health.

14 underwriters, led by Citigroup, Goldman Sachs, JPMorgan and Bank of America/Merrill Lynch, in the defense of Securities Act claims arising from the initial and secondary offerings of Venator Materials PLC in Texas state court.
AXA Equitable Life Insurance Company in the successful defense of novel policyholder class-action claims.
The National Football League in a variety of matters, including the litigation and class action settlement of hundreds of lawsuits filed by more than 5,000 former NFL players, who sought to hold the League liable for allegedly concealing the risks associated with concussions sustained while playing professional football.
ExxonMobil in various climate-change related tort lawsuits brought by states, counties and municipalities.
Caitlin received her J.D. from Columbia Law School where she was a James Kent Scholar and Managing Editor of the Columbia Journal of Law & Social Problems. Caitlin received her B.A., with distinction, from Amherst College.