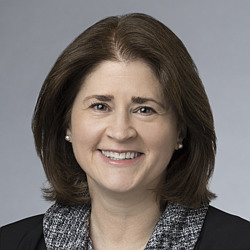 A partner in the Litigation Department and Chair of the Patent Litigation Group, Catherine Nyarady specializes in technology related matters, including patent litigation and digital technologies such as artificial intelligence (AI). She is registered to practice in the U.S. Patent and Trademark Office. Catherine has led many significant, high-profile litigation matters and regularly counsels industry-leading clients on their most complex issues. She is described by clients in Chambers USA as "a smart, careful and talented lawyer" who "works hard and fights for every inch, but always with a purpose and a goal in mind."
Catherine counsels clients in the AI and digital asset space, including providing day-to-day advice to help launch internal AI task forces.
EXPERIENCE
Life Sciences
Catherine has extensive experience litigating life sciences patent disputes and has taken high-stakes patent matters to trial for many innovative branded pharmaceutical and biopharmaceutical companies. Significant representations include:
Edwards Lifesciences in various matters including:

trial counsel in multiple litigations against Medtronic involving transcatheter heart valves, resulting in two jury verdicts for Edwards for willful infringement of transcatheter heart valve patents ($74 million and $393.6 million, respectively), securing an injunction for Edwards, and summary judgment of patent invalidity in a countersuit brought by Medtronic in the Central District of California, and in other patent infringement actions involving transcatheter heart valves. The Medtronic matters ultimately settled, with Medtronic paying Edwards over $1 billion;
in multiple matters involving transcatheter heart valves, including as lead counsel on a patent infringement litigation;

Amgen in a patent infringement case regarding Apotex's abbreviated BLAs for biosimilar versions of Amgen's Neupogen® and Neulasta® products, including obtaining a preliminary and permanent injunction against Apotex and the first trial alleging patent infringement under the Biosimilars Price Competition and Innovation Act (BPCIA);
Altachem N.V. and Lindal North America as lead counsel in a patent infringement action over valves made from glass-filled polyolefins used to dispense polyurethane foam;
BASF in patent infringement cases involving pesticides and in a patent infringement case involving low-VOC polymers;
Kurin, Inc., a private company with a novel device used to reduce blood culture contaminations, as lead trial counsel in a lawsuit where Kurin's competitor, Magnolia Medical Technologies, Inc., accused Kurin of infringing multiple patents;
Genentech in a successful dismissal on summary judgment of patent litigation brought by Baxalta (now a subsidiary of Takeda Pharmaceuticals) concerning Genentech's breakthrough hemophilia treatment, HEMLIBRA®; and
Yeda Research & Development Co. in a patent enforcement litigation regarding anti-TNF-α antibodies.

Technology
Catherine has represented major corporate clients in patent litigations involving a wide range of technologies, including semiconductor technology, LEDs, household addressable advertising systems, spinal cord stimulation systems, internet information storage and navigation, location-based mobile services, and bar code and machine vision technology. Significant representations include:
A Leading Audio and Visual Technology Company in an IP licensing dispute involving antitrust claims based on an alleged breach of FRAND obligations;
Conair Corporation as lead counsel in a patent infringement litigation involving cappuccino makers;
Duracell, Inc. and The Gillette Co. in a patent infringement litigation involving hearing aid batteries, achieving a jury verdict and judgment of patent invalidity holding all three patents in suit invalid;
IBM in a lawsuit brought in the Southern District of New York by GlobalFoundries alleging misappropriation of trade secrets;
iFlight Technology Company, the parent company to leading drone developer DJI, in two related, high-value patent disputes brought by Textron Innovations against DJI threatening the U.S. market;
NCR Corp. in a patent infringement litigation involving Internet method and information storage systems;
Nichia Corporation, in multiple matters, including:

several matters in District Court (Bluestone) and the ITC (Seoul Semiconducter Co.), both including patent infringement claims involving LEDs and LDs and blue laser technology; and multiple patent litigations regarding LED backlighting in TVs;
an appeal to the Federal Circuit involving Nichia's revolutionary technology covering bright-white LEDs, used in the backlighting of smartphones, computers and TVs; in street and traffic lights; and in home lighting products; and
as lead counsel in the enforcement of its patent rights to white LEDs in ongoing nationwide litigations against multiple alleged infringers. In related USPTO challenges, the PTAB declined to institute IPR proceedings on four petitions brought by one of the alleged infringers;

Plasma Physics Corp. as plaintiff in multi-defendant litigations involving plasma-enhanced chemical vapor deposition (PECVD) technology used to manufacture semiconductor chips and flat-panel displays;
Qualcomm in a business-critical breach of contract and trademark infringement suit brought in the District of Delaware by British semiconductor and software design company ARM;
Stimwave Technologies, Inc. as lead trial counsel in a dispute concerning Stimwave's innovative microsized wireless spinal cord stimulation system;
Symbol Technologies, Inc. in a patent infringement litigation against Lemelson Medical, Education and Research Foundation involving bar code and machine vision technology, resulting in a judgment finding prosecution laches and the Lemelson Foundation patents invalid, unenforceable and not infringed;
Toshiba Corp. in a case involving a DVD patent license agreement and subject patents;
Visible World and Cablevision as lead counsel in a patent infringement case involving household addressable advertising; and
Zagat Survey, LLC. in several major patent matters, including patent infringement cases involving a method of location-based mobile services, geographically referenced data, internet navigation methods and online restaurant reservations.

Other Litigations
Catherine's additional significant representations include:
Estee Lauder in a chemical patent case on mascara cosmetic products;
Gillette in multiple matters, including:

a major decision that its patented "group" of three blades covers cartridges with four or five blades; 
multiple patent cases on shaving products;

United Container in achieving summary judgment of non-infringement in a patent infringement litigation involving corrugated cardboard downstackers; and
Viva Healthcare Packaging as lead counsel in a patent infringement action involving injection-molded thin-walled articles, such as tubes, and methods for manufacturing the same.
Catherine is regularly recognized for her work in patent litigation by leading publications such as Chambers USA, where sources say she is "technically proficient and has a deep knowledge of patent law," and The Legal 500, where she has been described as having "the big advantage of being a top class litigator combined with a very extensive scientific understanding" and as being "very good with tough issues and witnesses." Catherine has been recognized as a "Client Service All-Star" by BTI Consulting Group and as one of "The World's Leading Patent Professionals" by IAM Patent 1000.
She has been active in firm management, serving as co-chair of the firm's Recruiting Committee for more than seven years and co-chair of the firm's staff attorney program.
Catherine is the co-author of a column on Intellectual Property that appears in The New York Law Journal. She authored a chapter on "Settling Patent Cases" in the leading treatise on the law of settlement agreements and the settlement process, Settlement Agreements in Commercial Disputes: Negotiating, Drafting and Enforcement, published by Wolters Kluwer. Catherine is also co-author of the Bloomberg Law Treatise Patent Law and Practice, which judges and their law clerks have come to rely on for up-to-date information on patent law and has been cited by courts more than 100 times since its initial publication.