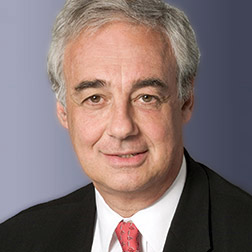 Of counsel in the Litigation Department, Daniel J. Beller has had extensive experience handling complex criminal and civil matters. Prior to joining the Firm, Dan served as an Assistant United States Attorney and Chief of the Major Crimes Unit in the United States Attorney's Office for the Southern District of New York. He was elected as a Fellow of the American College of Trial Lawyers in 1998 and has been recognized consistently as one of America's outstanding lawyers by Chambers Global, Chambers USA, New York Super Lawyers, The Best Lawyers in America and other publications.
EXPERIENCE
Dan has wide and deep experience handling both criminal and civil cases.
As a prosecutor, Dan handled numerous major investigations and, as lead counsel, successfully tried approximately 15 jury trials to verdict. Since entering private practice Dan has represented scores of corporate and individual clients in criminal and government enforcement investigations and has successfully handled cases involving alleged income tax evasion and fraud, price-fixing, money laundering, official corruption, commercial bribery, violations of the Foreign Corrupt Practices Act, government procurement fraud, mail and wire fraud and insider trading, among others.
The range of civil matters he has handled has included practically every type of case including securities fraud, RICO, securities manipulation, mergers, antitrust, contract, tort, mortgage foreclosure and real estate litigation, intellectual property and bankruptcy. He regularly counsels and represents clients on internal compliance and corporate investigations and the firm on professional responsibility matters.
Dan has litigated and tried significant cases in federal and state courts and arbitrations throughout the United States for major institutional and individual clients including Goldman, Sachs & Co.; AIG Global Real Estate; Sumitomo Corporation; Citigroup; Bell Atlantic; Cantor Fitzgerald, L.P.; Mitsubishi Corporation; Oak Hill Capital Partners; Oaktree Capital Management; Caxton-Iseman Capital Partners; Duane Reade Inc; American Ski Corporation; Bicent Power LLC; and a large food, agriculture, financial and industrial products and services provider to the world:
SEC v. Bisenius, et al. obtained negotiated dismissal of SEC fraud action against client relating to Freddie Mac subprime holdings without injunction, fine, disgorgement or finding of wrongdoing against client;
Greater Park City Company, et al. v. United Park City Mines Company and Talisker Land Holdings, LLC (won motion as lead counsel for property owner establishing failure of lessee properly to exercise options to extend remaining 40 years of a long-term ski resort lease);
Troice, et al. v. Chadbourne & Parke LLP, et al. (representation of law firm in connection with claims arising out of Stanford Financial alleged Ponzi scheme);
Bayonne Residential Limited Partnership v. Bayonne Local Redevelopment Authority, The City of Bayonne and The Port Authority of New York and New Jersey (representation of property developer in action seeking $200 million damages for breach of contract and violations of state law in connection with the redevelopment of Bayonne Peninsula);
AIG Global Real Estate, LLC v. ECRA GP, Inc. (Morgan Properties), Montgomery County, Pennsylvania (obtained preliminary injunction and successful settlement in major real estate partnership dispute);
Alphastar v. Goldman Sachs & Co. (successful defense against claims of fraud and breach of duty asserted by Chapter 7 Trustee of Bermuda insurance company);
Vail Resorts, Inc. v. American Ski Corp. et al., Denver County, Colorado (defeated motion for preliminary injunction seeking to prevent the closing of the sale of ski resort);
Cuti v. Duane Reade Holdings, et al., United States v. Cuti and Tennant, SEC v. Cuti and Tennant (defense of client in arbitration initiated by terminated CEO; cooperation on behalf of a victim client with DOJ and SEC in criminal and civil cases leading to conviction of former CEO and company officer and judgment in favor of victim client for more than $7 million in restitution);
Monahan v. Caxton-Iseman Capital, et al., New York Supreme Court (successful defense of client and its CEO in sexual harassment suit and initiation of criminal prosecution against plaintiff, a former employee, resulting in guilty plea and recantation of all allegations against client);
Ginsburg v. Gambro AB and Cobe Laboratories, Inc., Circuit Court, Broward County, Florida (successful defense of action for securities fraud and breach of fiduciary duty before Florida jury);
Black v. Sumitomo Corporation, Southern District of New York (settlement after trial resulting in dismissal of all claims and payment of attorneys fees and costs by plaintiff);
Reuters Inc. v. Cantor Fitzgerald, L.P. and Market Data Corporation ($250 million breach of contract arbitration);
F.T.C. v. B.A.T. Industries (upholding, at trial and on appeal, a major paper company acquisition against novel government antitrust challenge)
Pennzoil v. Texaco, Getty, United States District Court, Tulsa, Oklahoma (antitrust, preliminary injunction trial);
Sindona v. Fisher, United States District Court, Southern District of New York (successful defense of attorney in malpractice action);
Pross v. Katz, et al., New York Supreme Court (successful defense of major real estate owners against claims by alleged partner);
Nacional Financiera, et al. v. Union Capital Partners, Southern District of Florida (defeated effort to enjoin $500 million corporate acquisition); and
Reynolds v. Goord, United States District Court, Southern District of New York (successful challenge to coercive New York State prison tuberculosis control program).
Dan is an active participant in community and professional activities. He serves as a Fellow of the American College of Trial Lawyers, a Trustee of the Federal Bar Council, Vice Chair and Trustee of The Jewish Theological Seminary, a Commissioner of the National Commission of the Anti-Defamation League and former Vice-Chair of ADL's New York Regional Board, Chair of its International Affairs Committee and Chair of its Lawyers' Division and Religious Freedom Task Force. He received the Torch of Learning Award from the American Friends of the Hebrew University in 2001, the Human Relations Award from the Anti-Defamation League, Lawyers Division in 1996 , the Judge Simon H. Rifkind Award from The Jewish Theological Seminary in 2011, the 2011 Above & Beyond Pro Bono Achievement Award from Sanctuary for Families, and the 2015 Anti-Defamation League Generations of Justice Award.
Dan graduated from Harvard College, magna cum laude, (1968) and received his J.D. from The Yale Law School (1972), where he was an editor of the Yale Law Journal. Dan served as a law clerk to the Honorable Irving R. Kaufman, Chief Judge of the United States Court of Appeals for the Second Circuit. Prior to joining the firm, Dan undertook a Special Assignment for the United States Department of State (1973-74), and served as an Assistant United States Attorney in the United States Attorney's Office for the Southern District of New York (1974-78), where he was Chief of the Major Crimes unit (1977-78).