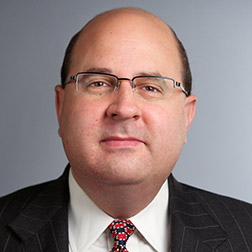 As counsel in the Litigation Department, Daniel J. Juceam's practice focuses on securities litigation and investigations, class actions and other complex commercial disputes. Mr. Juceam has substantial experience with the U.S. Securities and Exchange Commission's (SEC) enforcement process, and has also represented corporate clients and individuals in securities class actions, U.S. Department of Justice (DOJ) investigations, federal and state bank regulatory matters and bankruptcy-related matters. He also has briefed multiple appeals in the Second, Third and Ninth Circuits.
EXPERIENCE
For more than six years, Mr. Juceam served with the SEC's Division of Enforcement in Washington, D.C., including over two years as a Branch Chief. During his tenure with the agency, Mr. Juceam investigated potential violations of the federal securities laws involving many of the principal programmatic areas of interest for enforcement—including insider trading, disclosure-based violations, financial fraud and the Foreign Corrupt Practices Act.
In private practice, Mr. Juceam has recently represented:
numerous corporate clients and individuals in successfully defending SEC investigations into securities trading, disclosures to investors and accounting;
a global financial institution in an SEC auditor independence investigation, as well as separate federal and state regulatory investigations, examinations and litigation;
a leading pharmaceutical company in a securities class action, in which he helped obtain dismissal of all claims following exclusion of plaintiffs' damages expert just weeks before trial;
another leading pharmaceutical company in successfully defending securities class actions, securities opt out actions, ERISA fiduciary claims, putative derivative claims and SEC investigations;
a multinational conglomerate in successfully defending Foreign Corrupt Practices Act investigations by the SEC and DOJ;
a major Wall Street bank in an SEC accounting fraud investigation arising from the financial crisis, which was likewise concluded without any enforcement action; and
a hedge fund in obtaining a favorable outcome under a plan of allocation in a high-profile federal commercial dispute.
Mr. Juceam served as executive editor of the Harvard Journal of Law and Public Policy.
Mr. Juceam is a member of the Litigation Section and Business Law Section of the American Bar Association, as well as other professional associations.