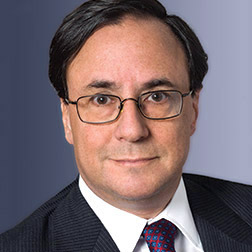 Of counsel in the litigation department, Daniel Leffell has had extensive experience advising clients and handling a diverse array of complex litigation, including commercial contracts, securities and corporate law, antitrust, patents and trademarks, real estate and bankruptcy.
EXPERIENCE
Dan has appeared before trial and appellate courts in numerous state and federal jurisdictions, as well as before arbitration tribunals in the United States and abroad, and has spoken and written on a variety of legal topics, including securities, antitrust and commercial contracts.

Among Dan's successful representations are:
In re American International Group, Inc. Securities Litigation; 265 F.R.D. 157 (S.D.N.Y. 2010) (evidentiary hearing resulting in significant restrictions on scope of class certified in securities class action);
Montgomery v. Metropolitan Transp. Auth., 25 Misc. 3d 1241A (Sup. Ct. N.Y. Co. Dec. 15 2009) (successful defense of the New York Metropolitan Transportation Authority against a challenge to its sale of property for the Atlantic Yards development project);
In re Charter Communs., 419 B.R. 221 (Bankr. S.D.N.Y. 2009) (successful representation of an ad hoc creditors' committee against challenges to a bankruptcy plan);
In re Ins. Brokerage Antitrust Litig., 2007 U.S. Dist. LEXIS 73220 (D.N.J. Sept. 28, 2007); In re Insurance Brokerage Antitrust Litig., 2007 U.S. Dist. LEXIS 64767 (D.N.J. Aug. 31, 2007) (dismissal of antitrust and RICO class action);
Gillette Co. v. Energizer Holdings, Inc., 405 F.3d 1367 (Fed. Cir. 2005) (patent case involving the well-known Mach 3® razor blade);
 UCAR Int'l Inc. v. Union Carbide Corp., 2004-2 Trade Cas. (CCH) 74,626 (2d Cir. Dec. 2, 2004) (dismissal of claims under the Delaware General Corporation law and common law and affirmance thereof);
In re Baan Co. Secs. Litig., 271 F. Supp. 2d 3 (D.D.C. 2002) (denial of class certification in a securities class action);
Klein v. General Nutrition Cos., 186 F.3d 338 (3d Cir. 1999) (dismissal of a securities class action and affirmance thereof);
Revlon Consumer Products Corp. v. L'Oréal S.A., 170 F.R.D. 391 (D. Del. 1997) (successful Markman hearing on scope of patent involving transfer-resistant lipsticks);
Sterling Drug Inc. v. Bayer AG, 792 F. Supp. 1357 (S.D.N.Y. 1992), aff'd in part and remanded, 14 F.3d 733 (2d Cir. 1994) (dispute over the United States rights to the well-known Bayer® trademark); and
Liggett Group v. Brown & Williamson Tobacco Corp., 748 F. Supp. 344 (M.D.N.C. 1990), aff'd, 964 F.2d 335 (4th Cir. 1992), aff'd, 509 U.S. 209 (1993) (judgment as a matter of law for defendants following a jury trial in a major antitrust case).
Dan is an active participant in community and charitable causes. He serves as a Trustee of the Jewish Board of Family and Children Services, and as President of the School Board of the Hawthorne Cedar Knolls Union Free School District.
Dan served as editor in chief of the Columbia Law Review and was a Harlan Fiske Stone Scholar.