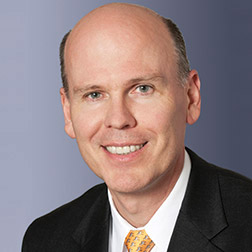 Of counsel in the Litigation Department, Dave Ball focuses on patent infringement, trade secret misappropriation, antitrust and related tort and contract litigation. Throughout his career, Dave has helped clients protect their most valuable and innovative IP in a wide range of technologies, including consumer electronics, mobile technology, computer hardware and software, biotechnology and video games. Dave has substantial experience before the federal district courts and the Federal Circuit, the International Trade Commission (ITC) and the Patent Trial and Appeal Board (PTAB) at the U.S. Patent and Trademark Office.
EXPERIENCE
Dave represents or has represented many leading companies, including 2K Games, Advanced Semiconductor Engineering, Amgen, Amkor, Biogen, Cisco, Cutera, Fiserv, Garmin, Genentech, General Electric (including litigations for GE Energy and GE Healthcare), Intel, Lexar, Life Technologies, Micron, Monsanto, NetApp, OSRAM, Rockstar Games, SAP, Seiko Epson, Sharp, SICPA, Siemens, STATS ChipPAC, Take-Two Interactive, TCL Communications Technologies, Twitter, Vanda Pharmaceuticals, Weight Watchers, Yahoo! and 10x Genomics.
Dave's current and recent representations include:
Amgen in litigation against a generic drug company seeking to make a biosimilar version of Amgen's Neulasta.
Amkor in an arbitration of a patent license agreement brought by Tessera before the International Chamber of Commerce, in which the arbitral tribunal held that most of the semiconductor chip packages accused by Tessera were not subject to the patent royalty provisions of the license agreement and awarded only a fraction of the damages Tessera had sought.
Biogen in a pending patent dispute involving recombinant beta interferon.
Cisco Systems in achieving a complete defense jury verdict of non-infringement and invalidity, and defeating a multi-billion dollar damages claim, in a patent litigation brought by StorageTek in the Northern District of California related to computer networking technology.
Garmin in several district court and ITC litigations, including in:

a significant jury trial victory, affirmed on appeal to the Federal Circuit, regarding a $2 billion patent infringement suit brought by Triangle Software in the Eastern District of Virginia alleging that several of Garmin's most popular portable navigation devices infringed five Triangle patents;
the settlement of a long-running patent infringement dispute with Navico regarding Garmin's fish-finding marine sonar products, including a complaint before the ITC and a favorable decision for Garmin on appeal to the Federal Circuit, as well as trial of patent infringement and false advertising litigation in the Eastern District of Texas; and
the settlement of a patent infringement dispute before the ITC brought by Furuno Electric and its U.S. subsidiary regarding marine radar display technology. 

General Electric in obtaining a jury verdict of $170 million, in a patent infringement litigation against Mitsubishi Heavy Industries and Mitsubishi Power Systems Americas in the Northern District of Texas, related to wind turbine technology.
Lexar Media in obtaining a jury verdict of $465 million in a trade secret/fiduciary duty litigation against Toshiba, in California Superior Court for Santa Clara County, related to flash memory technology. The state court verdict led to a $288 million settlement in Lexar's favor of all litigation, including patent claims asserted by each party.
OSRAM in a trial of a patent infringement litigation against Samsung and LG before the ITC related to LED technology, which resulted in settlement on confidential terms.
SAP in defense of an action brought by a business analytics provider alleging that SAP misappropriated trade secrets, infringed copyrights and engaged in antitrust violations related to its flagship product, HANA.
Seiko Epson in the successful defense of a patent infringement dispute brought by Cascades Projection concerning Epson's digital projector systems. Epson brought an IPR challenging the validity of Cascades' patent-in-suit which resulted in the PTAB issuing a decision that the patent claims at issue were invalid. Cascades appealed the IPR decision and, following oral argument, the Federal Circuit affirmed the decision, resulting in Cascades dropping its infringement suit.
Sharp as an antitrust plaintiff alleging several manufacturers fixed the prices of CRTs, and in subsequent favorable settlements.
Twitter in defense of a suit brought by BlackBerry in the Central District of California alleging infringement of seven patents related to various aspects of mobile advertisements and messaging interfaces.
10X Genomics in an ongoing ITC dispute with a competitor regarding the use of microfluidic chips.
A Japanese manufacturing and electronics company in a AAA arbitration of a patent license agreement which resulted in a favorable decision confirming the company's interpretation of the scope of the patent license.
Dave was an Assistant U.S. Attorney in the Civil Division for the District of Columbia from 1999-2003, where he tried five cases and argued two appeals before the D.C. Circuit. Dave was lead government counsel in successfully defending the District of Columbia's "Megan's Law" sexual offender registry from constitutional attack.
From 1996-98, Dave served as an Associate Solicitor of the US Patent and Trademark Office, where he argued five times before the Federal Circuit.
In 1994-95, Dave clerked for Federal Circuit Judge Randall R. Rader.
Dave was trained as an electrical engineer before going to law school.
Since 2014, Dave has been recognized by IAM Patent 1000 and The Legal 500 US for his work in intellectual property. Dave is described as an "upper-echelon lawyer" with "notable tech expertise," who is "easy to talk with, he doesn't throw techno-babble at you and gives a lot of personal attention to matters."