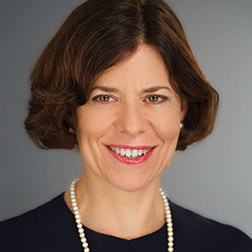 A partner in the Litigation Department, Elizabeth Sacksteder is a senior litigator with a broad range of experience in both private practice and senior in-house roles, and a particular concentration in financial services. She has handled major class action litigation involving antitrust, securities, commodities, consumer fraud, unfair trade practices and other claims; commercial litigation of all kinds; regulatory investigations and hearings; insurance and reinsurance disputes, both litigated and arbitrated; and adversary proceedings in bankruptcy.
EXPERIENCE
Liz has represented global banks in virtually every significant category of litigation and regulatory investigation arising out of the financial crisis, including mortgage-backed securities, auction-rate securities, alleged manipulation of LIBOR and other benchmarks, and the failures of Bear Stearns and Lehman Brothers. She has represented major life and property-casualty insurers in a wide array of matters, including big-ticket coverage and reinsurance litigation and arbitrations, regulatory investigations, policyholder class actions and asbestos bankruptcies. She has extensive experience in federal and state courts at the trial level and on appeal, as well as in a variety of arbitration fora, and has mediated and settled many major disputes. Having managed global litigation portfolios as the head of litigation at Citigroup Inc. and The Hartford Financial Services Group, Inc., Liz is especially mindful of the institutional pressures and concerns, including cost, disclosure, and reputational and regulatory risk, that litigation and investigations pose for her clients, and the importance of close partnership with the in-house team.
Liz's most significant recent representations include:
Achieving the dismissal, and affirmance on appeal, of novel policyholder and annuity-holder class action claims against AXA Equitable Life Insurance Company seeking the return of billions of dollars in premium;
Successfully defending on appeal the dismissal of securities fraud claims against Bear Stearns;
Representing a major global insurance group in the trial of a long-running asbestos-related reinsurance dispute, resulting in a favorable settlement after jury selection; and
Representing global banks in regulatory investigations before the SEC, the CFTC, the DOJ, and other agencies, resulting in successful resolutions, including a declination.
Liz is the former Deputy General Counsel and Global Head of Litigation and Regulatory Investigations at Citigroup Inc., where she managed a 250-person worldwide litigation and investigative team and advised Citigroup and its board on every aspect of their litigation and regulatory exposures. During her tenure at Citigroup, she supervised multibillion-dollar litigations and high-stakes regulatory and criminal investigations, many involving multiple jurisdictions. Prior to joining Citigroup, Liz was the Deputy General Counsel and Director of Litigation at The Hartford Financial Services Group, Inc., where she was second in command in a 400-person law department. She was responsible for a 60-lawyer litigation group, all litigation and pre-litigation counseling involving the holding company and the group's property-casualty, life and asset accumulation businesses, and supervision of the Reinsurance Law and Investment Law groups. Before joining The Hartford, Liz was a litigation partner in private practice representing clients in financial services, telecommunications, manufacturing, entertainment and other industries.
Liz is a member of the Commercial Division Advisory Council established in 2013 by then-Chief Judge Lippman to advise the Chief Judge on all matters pertaining to the Commercial Division of the New York State Supreme Court. She is an Adjunct Lecturer at Columbia Law School, most recently teaching Advanced Civil Procedure.
Liz is a recipient of the Arthur Liman Public Interest Award from the Legal Action Center (2012) and the Human Relations Award from the New York Lawyers Division of the Anti-Defamation League (2013). She serves as a member of the board of the Legal Action Center (2013-present), and she is a former court-appointed mediator for the U.S. District Court for the Southern District of New York. Recently, Crain's New York Business recognized Liz as one of its "Notable Women in Law" for 2018. She was the Coordinating Articles Editor of the Yale Law Journal.