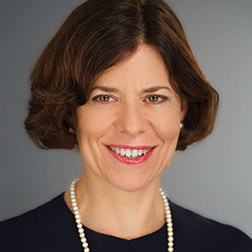 A partner in the Litigation Department, Elizabeth M. Sacksteder focuses her practice on complex litigation and regulatory matters.
EXPERIENCE
Ms. Sacksteder is the former Deputy General Counsel and Global Head of Litigation and Regulatory Investigations at Citigroup Inc., where she managed a 250-person worldwide litigation and investigative team and advised Citigroup and its Board on every aspect of their litigation and regulatory exposures. During her tenure at Citigroup, Ms. Sacksteder supervised multibillion-dollar litigations and high-stakes regulatory and criminal investigations, many involving multiple jurisdictions. Prior to joining Citigroup, Ms. Sacksteder was the Deputy General Counsel and Director of Litigation at The Hartford Financial Services Group, Inc., where she was second in command in a 400-person Law Department. She was responsible for a 60-lawyer litigation group, all litigation and pre-litigation counseling involving the holding company and the group's property-casualty, life, and asset accumulation businesses, and supervision of the Reinsurance Law and Investment Law groups. Before joining The Hartford, Ms. Sacksteder was a litigation partner in private practice representing clients in financial services, telecommunications, manufacturing, entertainment, and other industries.
Ms. Sacksteder is a recipient of the Arthur Liman Public Interest Award from the Legal Action Center (2012) and the Human Relations Award from the New York Lawyers Division of the Anti-Defamation League (2013). Ms. Sacksteder serves as a Member of the Board of the Legal Action Center (2013 - present). She was the Coordinating Articles Editor of the Yale Law Journal.