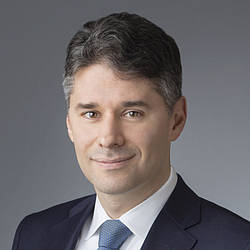 A partner in the Litigation Department, Harris is a widely respected trial lawyer and litigator, and has extensive public and private experience in white-collar and regulatory matters. Harris regularly counsels companies, boards of directors, investment advisory firms, and senior executives in proceedings before regulators and prosecutors.
EXPERIENCE
Harris has handled major criminal and regulatory matters and internal investigations involving all aspects of alleged corporate misconduct. Harris frequently represents public companies, investment advisory firms and executives in investigations conducted by the SEC's Division of Enforcement and other regulators. Harris also routinely represents corporate and individual clients in a variety of matters before federal, state and local prosecutors across the country.
A seasoned trial lawyer, Harris has tried cases on behalf of commercial clients before juries and arbitration panels, and also has substantial appellate experience. Harris has successfully conducted more than 20 criminal and civil trials and arbitrations.
Harris previously served as an Assistant U.S. Attorney in the U.S. Attorney's Office for the Southern District of New York, where he was Chief of the Violent and Organized Crime Unit and before that Deputy Chief of the Narcotics Unit. As a prosecutor, Harris supervised more than 30 criminal trials.
Harris is a frequent speaker on various issues related to trial practice, regulatory enforcement proceedings and criminal law. He recently taught a seminar on federal prosecution at NYU School of Law. Harris is also an accomplished writer and writes a regular column for Law360 on SEC regulatory developments. His work has been published by the Harvard Law School Forum on Corporate Governance. Following law school graduation, Harris worked at the Office of the Prosecutor of the International Criminal Tribunal for the Former Yugoslavia, where he worked on the prosecution of Slobodan Milosevic, the former president of Yugoslavia, for attempted genocide and other war crimes.
Harris is a member of the 2020 class of David Rockefeller Fellows sponsored by the Partnership for the City of New York.