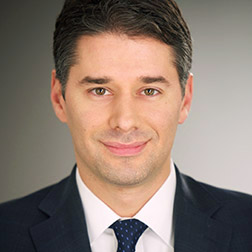 A partner in the Litigation Department, Harris Fischman is a former federal prosecutor and focuses his practice on regulatory enforcement proceedings, internal investigations, criminal defense and complex business litigation. An experienced trial and appellate lawyer, Harris handles all stages of civil and criminal investigations and proceedings.
EXPERIENCE
Harris previously served as an Assistant U.S. Attorney in the U.S. Attorney's Office for the Southern District of New York, where he was Chief of the Violent and Organized Crime Unit and Deputy Chief of the Narcotics Unit. During his six years as a federal prosecutor, he led the investigation and prosecution of a wide range of federal crimes, including financial fraud, money laundering, public corruption, asset forfeiture, racketeering and murder. Harris conducted twelve criminal trials, supervised more than 30 criminal trials and argued eight appeals in the Second Circuit.
Harris's representations include:
Companies in a variety of SEC investigations, including investigations into accounting and disclosure fraud, insider trading, supervisory failures and various controls issues;
Companies in a variety of criminal investigations by state and federal authorities, including investigations into insider trading and fraud;
Individuals in regulatory and criminal investigations, including several investigations into insider trading;
Companies in criminal and civil FCPA investigations conducted by the SEC and the U.S. Department of Justice;
Boards in various matters, including internal investigations and corporate governance issues; and
Companies in complex civil litigation, including representing Alere, Inc., a medical device and point-of-care testing company, in a multi-billion dollar mergers and acquisitions litigation.
Harris is a frequent speaker on various issues related to regulatory enforcement proceedings and criminal law and recently taught a seminar on federal prosecution at NYU School of Law. Harris was a law clerk at the Office of the Prosecutor of the International Criminal Tribunal for the Former Yugoslavia where he worked on the prosecution of Slobodan Milosevic, the former president of Yugoslavia, for attempted genocide and other war crimes.