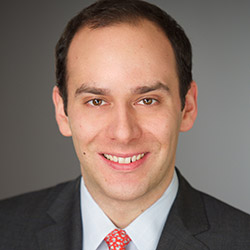 A partner in the Restructuring Department, Jake Adlerstein has broad experience advising a variety of clients in bankruptcy cases and corporate restructurings, including debtors, official and ad hoc creditor committees and distressed investment funds. Jake's company-side representations include Hexion, Cumulus Media, Pinnacle Agriculture and AbitibiBowater, and recent creditor and private equity sponsor representations include Guitar Center, Ligado Networks, J.Crew, Associated Materials, GNC, PDVSA, EP Energy, American Tire Distributors, Bellatrix Exploration, Energy Future Holdings, Pacific Exploration, Dynegy and Aspect Software.
Awards and Recognitions
Jake has been recognized as a leading restructuring practitioner by The Legal 500 and in Lawdragon's "500 Leading U.S. Bankruptcy & Restructuring Lawyers." Jake's work in Aspect Software's chapter 11 case was recognized as "Information Technology Deal of the Year (Over $250MM)" by The M&A Advisor in its 2016 Turnaround Awards.
Jake is an active contributor to some of the industry's leading publications. He recently co-authored, with fellow Paul, Weiss partners Bob Britton and John Weber, "Third Circuit Definitively Rejects Triangular Setoff" in Pratt's Journal of Bankruptcy Law. He regularly participates on panels sponsored by industry organizations, including Practising Law Institute.
CREDITOR, PRIVATE EQUITY SPONSOR AND ACQUIRER EXPERIENCE
Co-counsel to Apollo Global Management, as DIP lender in the chapter 11 proceedings and contested confirmation process for Grupo Aeroméxico, the flag carrier airline of Mexico
Azorra Aviation, a commercial aircraft leasing company, in its acquisition and recapitalization of certain aircraft owning silos of Nordic Aviation Capital pursuant to a prearranged chapter 11 plan process
Certain of the largest unsecured creditors of Philippine Airlines, Inc. in connection with its chapter 11 bankruptcy filing
The ad hoc committee of bondholders of Spanish Broadcasting System, one of the largest owners and operators of radio stations in the U.S., in the company's out-of-court recapitalization transaction
TPG Global and EIG Management Company in an out of court restructuring of their equity investment in Jonah Energy Holdings, one of the largest privately-held natural gas producers in the United States
TPG Capital in the coordinated U.S. and Canadian restructuring proceedings for Cirque du Soleil, a world-renowned Montreal-based producer of live entertainment and circus arts shows
Blackstone Group in a restructuring of its portfolio company, Frontera Generation, the operator of a 526 megawatt power plant on the U.S.-Mexican border, through prearranged chapter 11 cases in the Southern District of Texas. The company's plan provided for the restructuring of over $1 billion in liabilities
An ad hoc group of second lien lenders of telecom company Ligado Networks in Ligado's successful out-of-court restructuring of approximately $14 billion of liabilities and issuance of $2.85 billion of 15.5% PIK Senior Secured First Lien Notes due 2023 and $1 billion of 17.5% PIK Senior Secured Notes due 2024
The Carlyle Group, as a plan sponsor and post-bankruptcy new money investor in the prepackaged chapter 11 cases of Guitar Center, the world's leading musical instrument retailer. The plan provided for Carlyle to invest up to $65 million in the company in exchange for one-third of the post-reorganization common equity
An ad hoc group of noteholders and preferred stockholders in an out-of-court recapitalization of Associated Materials, a North American manufacturer and distributor of exterior building products with over $800 million of debt. The recapitalization transactions included the exchange of 99% of Associated Materials' senior secured notes for new common equity, the purchase of $250 million of new first lien notes by the participating noteholders, and the distribution of new common equity to preferred stockholders
An ad hoc group of FILO term loan lenders in the prearranged chapter 11 cases of GNC Holdings, a leading global specialty retailer of health and wellness products
TPG Partners in the prearranged chapter 11 proceedings of its portfolio company, J. Crew Group, an internationally recognized omni-channel retailer of women's, men's and children's apparel, shoes and accessories. The plan provided for, among other things, the equitization of approximately $1.65 billion of secured debt
Apollo Global Management as a secured noteholder and plan sponsor in the chapter 11 cases of Houston-based oil and gas exploration and production company EP Energy
The equity sponsors of software company Sungard Availability Services, a provider of IT production and recovery services, in its prepackaged chapter 11 case, approved by the U.S. Bankruptcy Court for the Southern District of New York less than 24 hours after the company filed for chapter 11 protection
American Industrial Partners, a New York-based private equity firm, in its acquisition of majority ownership of The Brock Group, a Texas-based provider of mission critical services to the refining, petrochemical, power generation and other industries, through an out-of-court exchange offer and recapitalization transaction, including the infusion of new debt and equity capital
An ad hoc group of 2020 secured PDVSA noteholders in a potential restructuring of the senior secured notes issued by Petróleos de Venezuela, S.A., an oil and gas company that is wholly owned by the government of Venezuela
An ad hoc group of unsecured noteholders of Canadian oil and gas producer Bellatrix Exploration in prearranged restructuring transactions pursuant to a corporate plan of arrangement under the Canada Business Corporations Act
The ad hoc committee of certain first lien senior secured creditors of Texas Competitive Electric Holdings Company, an electric utility provider, in the company's chapter 11 case involving the restructuring of approximately $32 billion of secured and unsecured debt
U.S. counsel to the ad hoc committee of senior noteholders of Pacific Exploration and Production (n/k/a Frontera Energy), an oil and gas exploration company, and certain debtor-in-possession financing providers in the cross-border restructuring of the company's approximately $5 billion of debt obligations through proceedings commenced in Canada, the U.S. and Colombia
An ad hoc group of term loan lenders in the prearranged chapter 11 restructuring of American Tire Distributors, the largest replacement tire distributor in North America. The company's plan provided for the restructuring of over $2 billion of debt, including the extension and modification of its term loan facility and equitization of its senior subordinated notes
An ad hoc group of debtholders of Concordia Healthcare, an international specialty pharmaceutical company based in Canada, in the restructuring of the company and its affiliates
An ad hoc group of first lien noteholders of Egalet Corporation, a specialty pharmaceutical company, in Egalet's prearranged chapter 11 cases
Centerbridge Partners and Oaktree Capital Management in a term loan and stock purchase to recapitalize Billabong, a public corporation organized in Australia that specializes in the sale of apparel and accessories related to skateboarding and surfing
An ad hoc committee of certain unsecured noteholders of Sequa Corporation, an industrial company with operations in the aerospace, energy and metal coatings industries, in the company's out-of-court recapitalization and exchange offer transactions
The Medicines Company, a leading biopharmaceutical company, as one of the largest unsecured creditors in the chapter 11 cases of Melinta Therapeutics, a pharmaceutical company focused on antibiotic medicines
An ad hoc group of first, second and third lien lenders to global specialty metal distributor A.M. Castle & Co. and its affiliated debtors in their prepackaged chapter 11 cases
An ad hoc committee of certain first lien lenders of Aspect Software, a global provider of software systems, equipment and corresponding professional services for contact centers that service the needs of customers across a wide range of industries, as well as lenders under Aspect Software's postpetition term loan facility, in Aspect Software's restructuring through a prearranged chapter 11 case
An ad hoc committee of noteholders of Dynegy, a certified retail electric service provider, in the commencement and settlement of litigation arising from a prepetition transfer of assets, the company's bankruptcy cases and prearranged restructuring of $3.6 billion of unsecured claims
The senior secured lenders to Australian-based Nine Entertainment Group in the restructuring of more than AU$2 billion of debt by means of a scheme of arrangement under which the lenders became the principal equity holders of the reorganized company
The ad hoc committee of senior secured noteholders of Savient Pharmaceuticals, a specialty biopharmaceutical company, in the company's prearranged chapter 11 case
Citigroup as the secured creditor in the chapter 11 case of Howrey LLP, an AmLaw 100 law firm
COMPANY EXPERIENCE
Hexion, the world's leading producer of thermosetting resins, and a leading producer of adhesive and structural resins and coatings, as special financing and securities counsel in the company's chapter 11 cases
Cumulus Media, the nation's second largest radio company with 446 stations spread across 90 markets, and certain of its affiliates in its chapter 11 cases
Pinnacle Agriculture Holdings, an agricultural retail and wholesale distribution business, in its out-of-court recapitalization and exchange offer transactions
Samsonite Corporation, a manufacturer of luggage and travel bags, in its worldwide out-of-court restructuring. In connection with the representation, we also represented Samsonite Company Stores in its successful prepackaged chapter 11 case, which was confirmed by the Delaware bankruptcy court in approximately two months
AbitibiBowater (now Resolute Forest Products), North America's largest forest products company, and its subsidiaries and affiliates, as lead U.S. counsel in their complex cross-border cases in the U.S. and Canada involving the restructuring of more than $8 billion of prepetition indebtedness and raising $1.5 billion in exit financing
Jake also maintains a significant pro bono practice. He recently represented the Hudson Highlands Land Trust, a non-profit land conservation organization, in its acquisition of a property from a bankrupt land seller, returning the property to protected green space. Jake is also co-leading the firm's collaboration with the Legal Aid Society of New York to address the national problem of student loan debt. Previously, he provided pro bono counsel to the Fort Tryon Jewish Center in a multi-year dispute with a real estate developer that left the synagogue without a permanent home when the project lost its financing and filed for bankruptcy protection.