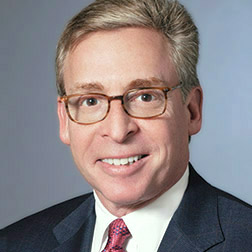 A partner and Co-Chair of the Litigation Department from 2008 through 2017, Jay Cohen is a nationally recognized trial lawyer and corporate counselor, particularly with regard to his comprehensive expertise in media, antitrust, securities, intellectual property and general complex commercial disputes. Jay is one of a select group of nationally recognized trial lawyers in The Legal 500 and has been recognized by Benchmark Litigation as the "General Commercial Attorney of the Year" in 2018 as well as one of the Top 100 Trial Lawyers in America. He has also been selected by Benchmark/Institutional Investor, Chambers USA and The Legal 500 as one of the leading general commercial and media and entertainment lawyers in the United States, with clients pointing to his "excellent judgment and perseverance" as being key attributes of his practice, while also commending his impressive trial skills. In 2017, Law360 recognized Jay as a Telecommunications MVP. Jay is also recognized in The Best Lawyers in America as a leading lawyer in commercial litigation, antitrust, media law and intellectual property.
EXPERIENCE
For more than 25 years, Jay has regularly represented major clients of the media and entertainment industry as lead counsel in a range of sophisticated and precedent-setting matters.
In addition, Jay's practice includes advising on high-stakes corporate transactions as well as conducting internal investigations on behalf of public companies and their boards of directors.
Significant lead trial counsel representations include:
Citigroup in a trial involving a $2 billion dispute with Lehman Brothers over the valuation of derivatives arising from the Lehman bankruptcy;
The American Society of Composers, Authors and Publishers (ASCAP) in a trial to determine the royalty rate for public performances of musical compositions played by Pandora, the leading Internet music streaming service; as well as leading efforts before to amend the client's 75 year old consent decrees;
Citigroup in the successful defense of a $7.5 billion arbitration with Abu Dhabi Investment Authority;
Citigroup in the trial of Terra Firma's claim that it was defrauded by Citigroup into buying the music company EMI plc. Terra Firma sought $8 billion in damages;
Cablevision in a trial and subsequent proceedings before the FCC resulting in the dismissal of a carriage complaint brought by Game Show Network;
Charter in a case brought by Fox News arising out of the Time Warner Cable transaction;
Comcast in a carriage complaint brought by EstrellaTV;
The National Music Publishers' Association, Inc. (NMPA), the Songwriters Guild of America and the Nashville Songwriters Association International in a trial in the Library of Congress resulting in the setting of advantageous new rates and terms for the mechanical license under Section 115 of the Copyright Act - the first contested rate proceeding in the music industry in almost three decades;
Time Warner Cable in a trial defeating a carriage access complaint brought by Wealth TV as well as in a proceeding in which it prevailed in a carriage complaint brought by MASN;
TV Azteca S. A. de C. V., one of the largest producers of Spanish language television programming in the world, in numerous matters including a dispute with Echostar involving the transmission of TV Azteca's programming in the United States;
Time Warner in antitrust and other litigation matters, including a Department of Justice investigation into a joint venture formed by major movie studios to provide movies on demand over the Internet;
Warner Music Group in litigations involving various aspects of its recorded music business, including a series of antitrust class actions in state and federal courts alleging price fixing among the major recorded music companies; and
Sony Music in one of the first litigations establishing the scope of recording artists' digital rights.
Key internal investigation representations include:
NEC Corporation, a Japanese multinational company, in an SEC investigation of accounting issues arising out of the application of FAS 13 to the company's multi-element equipment and service transactions;
The Audit Committee of Xerox in an internal investigation of lease accounting;
Wells Fargo in an SEC and state investigation of alleged mispricing of a mutual fund invested in mortgage-backed residential securities; and
The chairman of Grupo Salinas, a conglomerate of public companies in Mexico, in an SEC investigation of certain insider transactions.
Other significant trial and major case representations include:
Time Warner in a trial arising out of Time Warner's role as licensing agent for the National Hockey League and the NHL Players Association;
Salomon Smith Barney in a nationwide Title VII class action;
Capitol Records in a RICO and ERISA class action arising out of the record company's alleged underpayment of health and retirement benefits to recording artists;
Abex in the trial of a tax-sharing dispute in which the court also awarded the client nonstatutory attorneys' fees;
Purolator in the successful defense of a trial involving Title VII claims brought by its senior officers; and
A member of the Saudi royal family in a trial involving mispricing in foreign exchange trading.
Jay also has significant appellate experience. He has argued matters in the New York Court of Appeals, as well as the D.C., 2nd, 4th, 9th and 11th Circuits.
Jay is a Lecturer in Law at both the University of Chicago Law School, where he teaches trial advocacy and Columbia Law School where he teaches a seminar on law and the music industry.
Jay is a member of the Board of Directors of Volunteer Lawyers for the Arts and Bronx Defenders, an active participant in the firm's pro bono practice and was among the recipients of the Legal Aid Society's 2000 Pro Bono Award for his work in representing the Coalition for the Homeless.