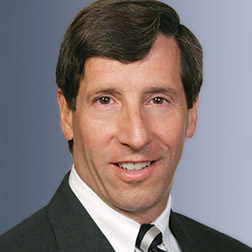 Of counsel in the Antitrust Group, Joe Simons focuses on antitrust M&A, litigation and counseling. Prior to joining Paul, Weiss, he was the chief antitrust enforcer at the Federal Trade Commission (FTC), serving as Director of the Bureau of Competition from June 2001 until August 2003. Under his leadership, the Commission pursued a strong bipartisan enforcement agenda under which all but one of the more than 70 antitrust enforcement actions taken by the agency were by unanimous vote. During his tenure, the FTC prevailed in all of the 46 merger enforcement actions taken by the Commission. Joe was responsible for overseeing the re-invigoration of the FTC's non-merger enforcement program, initiating well over 100 investigations in two years and producing more non-merger enforcement actions in one year than in any year in the prior two decades. He also initiated a new emphasis at the FTC on administrative litigation, substantially increasing the number of trials before the agency, including merger, monopolization and horizontal restraint cases.
EXPERIENCE
Joe has extensive experience representing clients before the FTC, the Department of Justice, the Department of Defense, and Congress in a wide range of antitrust and regulatory matters, from the largest mergers and acquisitions to price fixing and novel predation and vertical restraints cases. He has represented clients in numerous industries ranging from airlines and computer reservations systems to telecommunications, defense contracting, consumer electronics, music, financial services, credit cards, transportation, agriculture, health care, soft drink concentrate, beer, aluminum can sheet and software.
Some of his recent work includes representing:
Rockstar, a consortium including Microsoft, Ericsson, RIM and Sony, in its $4.5 billion acquisition of the patent portfolio of Nortel Networks in a bankruptcy court approved auction. Paul, Weiss is representing both Ericsson and the consortium in seeking antitrust clearance in the U.S.;
Sharp Corporation in antitrust litigation and investigations of cartel activity related to liquid crystal display units;
Ericsson in its acquisitions of the CDMA, GSM and Passport businesses of Nortel Networks in several bankruptcy court approved auctions for aggregate consideration in excess of $1.3 billion. The transactions required antitrust clearance in numerous jurisdictions including U.S., Europe and China;
Mastercard Inc. in antitrust class actions in federal court in New York involving all merchants in the United States that accept Mastercard, alleging that the fees merchants pay when consumers use credit and debit cards are fixed illegally under antitrust
laws; and
The Lightstone Group on antitrust issues in connection with the disposition of its portfolio company, Prime Outlets Acquisition Company, to Simon Property Group, Inc. in a transaction valued at approximately $2.3 billion, which was subject to an FTC investigation.
Along with a former chief economist of the Department of Justice Antitrust Division, Joe developed "Critical Loss Analysis," a technique for market definition that has been adopted and used widely by the Antitrust Division, the FTC, and the U.S. Court of Appeals. It was incorporated into the DOJ/FTC Merger Guidelines. Critical Loss Analysis also plays a fundamental role in evaluating the competitive effects of transactions as well. Joe was also the first practicing attorney to evaluate monopolization and vertical restraints under the theory of "Raising Rivals Costs" and contributed to the development of the theory, which now plays a significant role in the analysis of such cases at both federal antitrust enforcement agencies.
Joe's history with the FTC's Bureau of Competition started in the late 1980s when he served as the Associate Director for Mergers and the Assistant Director for Evaluation, respectively. In the former position, he was responsible for supervising numerous merger investigations, and as head of the Evaluation Office, he was responsible for analysis of all of the Competition Bureau's non-merger matters.
While in private practice in 2000, Joe was nominated by the Department of Justice, and approved by the Federal Communications Commission and Federal District Court, as trustee of four wireless telephone businesses relating to the GTE/Bell Atlantic/Vodafone transaction. In that capacity, he became the holder of the FCC licenses to these properties, making him the 10th largest wireless carrier in the United States, and he was responsible for managing and divesting these businesses valued at over $2 billion. He performed a similar function for the Cingular/AT&T Wireless transaction.
Joe has published a wide range of articles on antitrust-related topics, including two papers appearing in refereed economics journals, one of which was selected for The Journal of Reprints for Antitrust Law and Economics. He co-authored an article published in Oxford's Journal of Competition Law & Economicstitled "The 2010 Merger Guidelines, Critical Loss, and Linear Demand." Most recently, he co-authored "In Defense of Market Definition," published in the Winter 2012 issue of The Antitrust Bulletin, a special issue with articles written in response to Professor Louis Kaplow's Harvard Law Review article "Why (Ever) Define Markets?"
Joe continues to be recognized as a leading antitrust lawyer by Chambers USA, Chambers Global and The Legal 500.  For the past three years, he has also been acknowledged by his peers for inclusion in The Best Lawyers in America.  Joe was selected to "The International Who's Who of Competition Lawyers & Economists 2013" by the Global Competition Review. Earlier in his career, he was selected to Crain's New York Business "40 Under 40," which recognizes 40 rising stars in the New York business community.