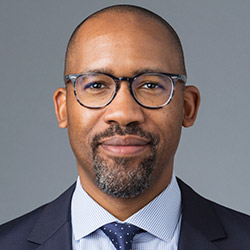 San Francisco
535 Mission Street, 24th Floor
San Francisco, California 94105
Fax: +1-628-232-3090
New York
1285 Avenue of the Americas
New York, NY 10019-6064
+ vCard
ADD TO CONTACTS
A partner in the Litigation Department, Josh Hill is an experienced and dynamic trial lawyer who focuses on regulatory and internal investigations, white collar defense and complex commercial litigation. A former federal prosecutor with experience in all aspects of trial practice, Josh has tried numerous cases to verdict in federal court, represented corporations and individuals in federal criminal investigations, arbitrated high-stakes business disputes, conducted contested administrative proceedings, and litigated complex matters in California federal and state courts.
Josh is praised by clients for his results, presence and judgment. Chambers USA recently described him as a "very talented" litigator with "significant strengths acting for clients in the technology, healthcare and energy sectors."
EXPERIENCE
For nearly two decades, Josh has represented clients across the pharmaceutical, medical device, consumer technology, sports, private equity and energy industries on a diverse range of matters. He has substantial experience representing clients in civil and criminal Department of Justice (DOJ) investigations, civil and criminal antitrust matters, sports litigation, high-stakes business disputes, health care fraud investigations, consumer class actions, and Immigration and Customs Enforcement investigations.
Josh previously served as an Assistant U.S. Attorney in the U.S. Attorney's Office for the Northern District of California, where he investigated and prosecuted a broad range of offenses, including wire and mail fraud, bank fraud, criminal tax, immigration violations and violent crimes.
In the white collar defense area, Josh regularly represents leading public corporations and private equity clients in connection with business-critical regulatory investigations and enforcement actions. His recent representations include, among others, an investor-owned utility in governmental investigations pertaining to wildfires; an investment company in state attorneys general antitrust and consumer protection investigations; a publicly traded biotech company in a DOJ securities fraud investigation; a medical device maker in a DOJ False Claims Act investigation predicated on alleged violations of the federal Anti-Kickback Statute, resulting in government non-intervention and the dismissal of the whistleblower complaint; a leading pharmaceutical manufacturer in parallel DOJ criminal and civil investigations related to allegations of false and misleading promotion practices; a private equity firm in an investigation related to accusations of workplace misconduct and harassment; an investor-owned utility in an enforcement proceeding related to natural-gas distribution pipelines, which included an evidentiary hearing before an administrative law judge; and a healthcare provider in connection with a California Department of Insurance anti-kickback investigation.
In the commercial litigation space, Josh has represented major technology companies, investment managers and sports organizations in a variety of complex consumer class actions, arbitrations and other disputes. Most recently, he has represented a consumer technology company in the favorable settlement of a consumer class action alleging violations of California's UCL; a streaming video technology company in a consumer class action alleging unfair business practice and false advertising violations; a consumer technology company in a consumer class action alleging violations of the California Song-Beverly Credit Card Act related to the collection of customer data; the Golden State Warriors in an AAA arbitration against the Oakland-Alameda County Coliseum Authority related to the lease to Oracle Arena; an investment firm in a five-week arbitration hearing related to claims for breach of contract, theft of trade secrets, and breach of fiduciary duty; and the former executive director of the National Basketball Players Association in the favorable settlement of a breach of contract litigation against the NBA players' union.
Josh also frequently represents individuals in connection with criminal and regulatory investigations concerning a wide variety of alleged misconduct. Among others, he has represented a senior manufacturing executive in connection with a DOJ antitrust price-fixing investigation, and an individual in a government prosecution alleging fraud related to a failed real estate development, in which the government voluntarily dismissed the federal indictment on the eve of trial; after re-indictment, Josh prevailed on the motion to dismiss, resulting in the government's decision to abandon the prosecution.
Josh has been repeatedly recognized by various trade publications and legal directories for his accomplishments. He has been ranked by Chambers USA in the Litigation: White-Collar Crime & Government Investigations (California) category since 2018, with Chambers most recently recognizing Josh for his "strong capabilities in antitrust, FCA and securities matters and on government investigations." The Legal 500 US has also recognized Josh in the Corporate Investigations and White-Collar Criminal Defense category. In 2015, the Daily Journal named Josh one of the "Top 20 Lawyers Under 40" in California.
Josh previously served as a law clerk to the Honorable Jack B. Weinstein of the U.S. District Court for the Eastern District of New York. He earned his J.D. from Yale Law School, where he was a Senior Editor of the Yale Law Journal, his M.A. in economics from Johns Hopkins University, and his B.A. in economics from Morehouse College.