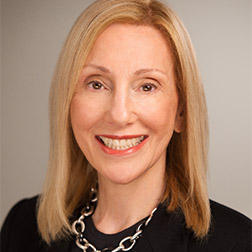 EXPERIENCE
Of counsel in the Corporate Department and former co-head of the Mergers and Acquisitions Group, Judith R. Thoyer has extensive experience in the area of acquisitions and dispositions of both public and private companies, as well as in representing public company Boards of Directors and Special Committees. Her mergers and acquisitions experience covers negotiated transactions, contested takeovers, and acquisitions and dispositions of companies in connection with chapter 11 proceedings. Ms. Thoyer is recognized as one of the leading lawyers in the area of corporate and M&A law by numerous peer review organizations, including Chambers USA, Chambers Global and Who's Who In America.
Her experience includes representing the Special Committee of Weight Watchers International, Inc. ("WWI") in connection with its acquisition of the 80 percent of WeightWatchers.com Inc. that it did not already own; representing Hollinger International Inc., now known as Sun-Times Media Group, Inc., publisher of The Chicago Sun Times and other newspapers, in its "Strategic Process" after the forced departure of Lord Conrad Black as CEO, and its sale in the United Kingdom of The Daily Telegraph; representing Movado Corporation, a NYSE company renowned for its Museum Watch, in its acquisition of Ebel, a Swiss watch company; and representing TV Azteca, S.A. de C.V., a large producer of television programming in Mexico, with respect to its U.S. network of Spanish language television stations.
In addition, Ms. Thoyer's practice also includes the general representation of public companies and advising public company Boards of Directors. She has represented such varied companies as Foamex International, Inc. (including during its first chapter 11 filing), Movado Corporation, Ampco-Pittsburgh Corporation, Sun-Times Media Group, Inc. and several Mexican public companies in their U.S. transactions. She has extensive experience advising Special Committees for specific corporate transactions, such as the management led buy-outs of NextHealth, Inc. and Vitaminshoppe.com, and representing Independent Directors, such as in Hexcel Corporation's sale of company shares.
Ms. Thoyer has participated in Practising Law Institute seminars, including "New Strategies in Contests for Corporate Control" where she has spoken on "Corporate Governance and its Effect on the Board of Directors in M&A Transactions," "Protection for Negotiated Post-Merger Corporate Governance Arrangements" and "Mergers of Equals." She has also spoken on "Advising the Board of Directors in the M&A Context," and "The Role of Special Committees in Interested Transactions." Ms. Thoyer spoke at the Tulane Corporate Law Institute on "Duties and Rights of the Controlling Stockholder and Affiliated Subsidiary Directors."
She is a member of the Association of the Bar of the City of New York, where she has been a member of the Committee on Mergers, Acquisitions and Corporate Control Contests. She is also a member of the New York County Lawyers Association and a member of the TriBar Opinion Committee.
Along with her husband, Michael Thoyer, Ms. Thoyer founded Friends of the University of Ghana. They were also founding contributors to Africa House at New York University and funded the "Thoyer Scholars" at Columbia Law School for LL.M. students from Africa.
She received the 2003 Medal for Excellence Award from Columbia Law School, served as an editor of the Columbia Law Review and was a Kent Scholar. She joined Paul, Weiss in 1966 and was elected a partner in 1975.