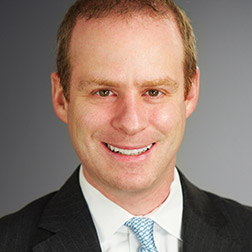 As counsel in the Litigation Department, Justin D. Lerer has experience in criminal and regulatory defense, including anti-money laundering, frauds, and cybercrime, and in complex commercial litigation, including securities litigation and class actions.
EXPERIENCE
At Paul, Weiss, Justin has been involved in the defense at trial of the former chairman of a Fortune 20 corporation on criminal securities fraud charges and the successful defense of the former chairman and CEO of a Fortune 500 corporation in federal criminal and regulatory investigations. Justin was also a member of the teams that represented Citigroup in the defense of civil claims arising out of the collapses of WorldCom and Parmalat. Justin's pro bono representations have included the representation in post-conviction proceedings of an individual on Alabama's death row.

While at the U.S. Attorney's Office for the Eastern District of New York, Justin was Co-Head of the Anti-Money Laundering Strike Force and Acting Chief and Deputy Chief of the International Narcotics and Money Laundering Section.  Justin also served in the Business and Securities Fraud and National Security and Cybercrime sections. Justin oversaw and personally handled a wide variety of criminal investigations and prosecutions, including securities fraud, investment adviser fraud, money laundering, cybercrime, Food Drug and Cosmetic Act violations, export enforcement, tax fraud, health care fraud, and public corruption. During the period of Justin's supervision of the International Narcotics and Money Laundering Section, the Office entered into a deferred prosecution agreement with HSBC addressing its violations of the Bank Secrecy Act, the International Emergency Economic Powers Act, and the Trading with the Enemy Act. Justin was deeply involved in international prosecutions, working with prosecutors and law enforcement agencies in 17 foreign countries on six continents. Justin received the Outstanding Financial Task Force Award from the Executive Office of the President for leading the prosecution of an international money laundering organization, resulting in the conviction of 25 defendants. He also received the Meritorious Civilian Service Award from the U.S. Navy for his prosecution of national security cases and the True American Hero Award from the Federal Drug Agents Foundation for his prosecution of narcotics and money laundering cases.

Justin serves as a trustee of the Horace Mann School and is a former member of the Board of Directors of the Harvard Alumni Association.

While at law school, Justin was Executive Editor of the Harvard Law Review.