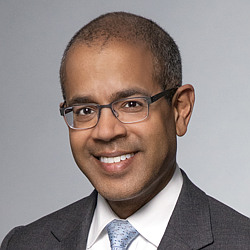 Chair of the Supreme Court and Appellate Practice Group and managing partner of the Washington office, Kannon Shanmugam is widely recognized as one of the nation's top appellate lawyers. He was named Appellate Litigator of the Year by Benchmark Litigation and was a finalist for The American Lawyer's 2022 Litigator of the Year. Kannon has argued 35 cases before the Supreme Court, including 15 cases in the last five years. In all, he has argued over 100 appeals in courts across the country, including arguments in all thirteen federal courts of appeals and in numerous state courts.
A recent study found that, over a five-year period, Kannon had the highest rate of successful petitions for review of any Supreme Court practitioner. He was lead counsel in the successful constitutional challenge to the structure of the Consumer Financial Protection Bureau, described by the Wall Street Journal as the "constitutional case of the year."
Prior to private practice, Kannon served as an Assistant to the Solicitor General at the U.S. Department of Justice. He also served as a law clerk to Supreme Court Justice Antonin Scalia and to Judge J. Michael Luttig of the U.S. Court of Appeals for the Fourth Circuit.
Benchmark Litigation noted that Kannon is "one of the most respected and admired appellate practitioners" in the country. One longtime Supreme Court reporter recently said that Kannon "has perhaps the most eloquent and elegant manner … that I've ever seen in my 40 years covering the Court," adding that he "projects calm, confidence, and authority from the moment he takes to the lectern." Chambers USA described Kannon as "famous for his unflappable, calm, and disarming manner at oral argument," and praised him as an "impeccable writer" and "great strategic mind." Legal 500 called Kannon "a brilliant lawyer and tactician, with impeccable judgment and an optimal moral compass."
Awards and Recognitions
Kannon has been recognized as one of the top 500 lawyers in the nation (Lawdragon magazine) and as one of the top 10 lawyers in Washington (Super Lawyers). He has been featured on numerous lists of top Supreme Court advocates, with Washingtonian magazine naming him one of its 20 people in Washington to watch. Kannon has been named a Law360 "Appellate MVP" four times in the last six years (2017, 2018, 2021, and 2022), and he has been selected as The American Lawyer's "Litigator of the Week" three times. 
EXPERIENCE
Kannon is a member of the firm's Management Committee. He has served as the co-chair of the American Bar Association's Appellate Practice Committee and is also a past president of the Edward Coke Appellate Inn of Court, the principal bench-bar organization for appellate judges and lawyers in the Washington area. Kannon is the only practicing American attorney who is an honorary bencher of the Inner Temple, one of the four English Inns of Court.
Kannon has taught Supreme Court advocacy as an adjunct professor of law at Georgetown University Law Center. In the community, he has served as chair of the board of trustees of Thurgood Marshall Academy, a charter school in Southeast Washington that is one of the city's highest-performing public high schools. He has devoted substantial time to pro bono representation in the areas of criminal law and religious liberty.
Kannon's significant representations include:
Successfully representing Goldman Sachs in a Supreme Court case concerning the standard for disproving price impact in connection with class certification in a securities class action (Goldman Sachs Group v. Arkansas Teacher Retirement System).
Successfully representing Seila Law in a Supreme Court case challenging the constitutionality of the structure of the Consumer Financial Protection Bureau (Seila Law v. Consumer Financial Protection Bureau).
Successfully representing the energy industry in a Supreme Court case concerning jurisdiction over tort suits seeking to recover damages for global climate change (BP v. Baltimore).
Successfully representing antitrust defendants in a Supreme Court case concerning the enforcement of a contractual provision delegating questions of arbitrability to an arbitrator (Henry Schein v. Archer & White).
Successfully representing Digital Realty in a Supreme Court case requiring whistleblowers to report to the Securities and Exchange Commission before bringing suit for retaliation under the Dodd-Frank Act (Digital Realty v. Somers).
Successfully representing Jesse Litvak, a Jefferies bond trader, in two high-profile appeals in the Second Circuit reversing his convictions for securities fraud, for which Kannon was named "Litigator of the Week" by The American Lawyer (United States v. Litvak).
Successfully representing AstraZeneca in the First Circuit in an appeal from the first jury verdict in an antitrust class action challenging pharmaceutical patent settlements, in which plaintiffs were seeking up to $20 billion in damages (In re Nexium Antitrust Litigation).
Successfully representing Bank of America in the Second Circuit in its appeal from a $1.3 billion adverse judgment for civil penalties under FIRREA arising from the sale of mortgage loans to Fannie Mae and Freddie Mac, for which Kannon was named "Litigator of the Week" by The American Lawyer (Bank of America v. United States).
Successfully representing AstraZeneca in the Federal Circuit in a case providing broad personal jurisdiction over generic drug manufacturers in patent disputes (AstraZeneca v. Mylan).
Successfully representing a death-row inmate pro bono in the Supreme Court, with the Court ruling that the district attorney's office had engaged in prosecutorial misconduct by failing to disclose favorable statements made by the key eyewitness before trial (Smith v. Cain).