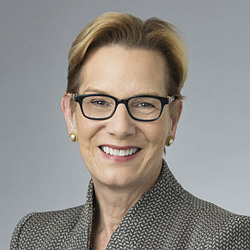 A partner in the Litigation Department, co-chair of the Digital Technology Group and a member of the Antitrust Practice Group, Katherine previously served as a U.S. District Judge for the Southern District of New York and as a Deputy Assistant Attorney General in the U.S. Department of Justice's Antitrust Division. A veteran trial attorney, Katherine regularly handles sensitive investigations, complex commercial and antitrust litigation, intellectual property matters, high technology advisory and litigation matters (in the areas of artificial intelligence, cryptocurrency and blockchain).
EXPERIENCE
A remarkable litigator and trial talent with more than 30 years of experience, Katherine has led sensitive, high-profile investigations involving the DOJ, FTC and other U.S. and foreign regulators, and complex, high-stakes litigation spanning numerous substantive areas such as antitrust, copyright, patent, media, sports & entertainment and high technology including artificial intelligence, Web3 and digital assets. She has also worked extensively in the pharmaceutical, financial services, toxic tort, and employment sectors. Sources quoted in Chambers USA note that Katherine "is one of the best if you have a significant litigation or internal investigation," while Legal 500 US sources call her "a force in court." Katherine is also widely regarded as a leader in legal issues relating to technology, including artificial intelligence, the digital environment, high-speed trading and content distribution, and big data.
Katherine was nominated by President Barack Obama and confirmed by the U.S. Senate in 2011 as a U.S. District Judge for the Southern District of New York. In her seven years on the bench, she presided over several thousand criminal and civil cases, including over 100 trials; authored more than 1,000 opinions; and sat by designation on the Second Circuit for dozens of appeals. The Judicial Panel on Multidistrict Litigation consolidated over 30 lawsuits filed nationwide concerning aluminum price-fixing allegations before Katherine. As a member of the Judicial Patent Task Force for the Southern District of New York, she presided over several dozen patent cases and conducted numerous Markman hearings. Before stepping down from the bench, Katherine also served on the Grievance Committee for the Southern District, including as chair from 2016-2018. Earlier, in 2010, Katherine served as Deputy Assistant Attorney General in the DOJ's Antitrust Division, where she oversaw operations for criminal and civil enforcement and worked on merger review and numerous civil and criminal (cartel and price-fixing) antitrust investigations.
Prior to her eight years in government service, Katherine advised on and litigated antitrust, intellectual property, employment and contract issues for a wide range of clients in the media, airline, banking, healthcare, pharmaceutical and manufacturing industries. Over the years, her clients have included Time Warner and a number of its divisions, including Home Box Office, Warner Brothers Studios, Turner Broadcasting Systems and Time Warner Cable, as well as Warner Music Group, WarnerMedia, Schneider Electric, Fenway Sports Group, Eli Lilly and United Airlines.
INDUSTRY AWARDS AND RECOGNITION
Katherine has been recognized as a leading lawyer by numerous industry publications, including The American Lawyer, Benchmark Litigation, Chambers USA, Global Competition Review, IP Law & Business, Lawdragon and The Legal 500 US. She has received Benchmark Litigation's Hall of Fame Award and has been named to the publication's "Top 100 Trial Lawyers in America" list, and she was named the 2022 New York City "Lawyer of the Year" by The Best Lawyers in America for Antitrust Law. In 2019, she was included in Crain's New York Business's list of "Notable Women in Law." The American Lawyer recognized Katherine as one of 10 district court judges to watch and Law360 named her one of the 10 most influential recently appointed judges.
WRITING/SPEAKING
Katherine is a frequent speaker and published author in the areas of antitrust, intellectual property and investigations, and regularly writes and speaks on topics concerning the use of artificial intelligence in the practice of law and algorithmic bias. Among other publications, Katherine authored a book entitled "When Machines Can be Judge, Jury and Executioner: Justice in the Age of Artificial Intelligence" (on algorithmic bias); she has appeared on the PBS show, NOVA, on algorithmic bias and artificial intelligence; and she authored the "Artificial Intelligence" treatise chapters for Business & Commercial Litigation in New York State Courts (Fifth Edition) and Business & Commercial Litigation in Federal Courts (Fifth Edition), respectively, and a chapter on emerging issues in copyright law and artificial intelligence in The Law of Artificial Intelligence and Smart Machines. She has a forthcoming book entitled "Is Justice Real When "Reality" is Not: The Construction of Ethical Systems in Virtual Worlds." She is also a regular technology columnist for the New York Law Journal, earning a distinguished legal writing award in 2020 from The Burton Awards for her article "The Holographic Judge."
Katherine delivered numerous talks in 2021 and 2022 at events hosted by the American Bar Association, the New York City Bar Association, the Federal Bar Association, the National Judicial College, the New York State Judicial Institute, The Future Society and UNESCO, among others, including on topics related to artificial intelligence, the metaverse, antitrust and international arbitration. She was a panelist on "The Path Towards an Enforceable EU AI Act," at The Athens Roundtable on Artificial Intelligence and the Rule of Law and "Choosing Wisely: The Challenge of Interim Measures in International Arbitration," at New York Arbitration Week. She has spoken numerous times on behalf of the National Judicial College, given keynote speeches on these issues before all of the New York State judges and trained judges on these issues internationally, including "The Transforming Role of Judicial Operators in Upholding the Rule of Law in the Age of AI," at UNESCO and SMART Africa's Virtual Inter-regional Training Program. She has been an adjunct professor of law at NYU School of Law for eight years where she co-teaches a course on Quantitative Methods and the Law.
BOARDS AND OTHER PROFESSIONAL AFFILIATIONS
Katherine is active in numerous charitable and professional organizations. Among others, she currently serves on the board of advisors of the Center on Civil Justice at NYU School of Law and the board of trustees of Choate Rosemary Hall, a boarding school.